Lasmiditan may be new treatment for acute Migraine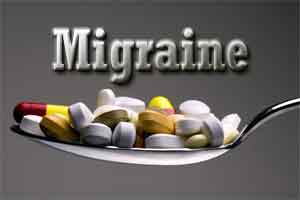 Lasmiditan may be the new treatment for an acute Migraine as FDA has received a request called New Drug Application for approval.
Eli Lilly has announced the submission of a New Drug Application (NDA) to the U.S. Food and Drug Administration (FDA) for lasmiditan for the acute treatment of a migraine with or without aura in adults.
It is the first and only molecule in the "-ditan" class under evaluation for the acute treatment of migraine in adults. If approved, it could represent the first significant innovation for the acute treatment of migraine in more than two decades. Lasmiditan is an investigational, oral, centrally-penetrant, selective serotonin 5-HT1F agonist that is structurally and mechanistically distinct from other approved migraine therapies and lacks vasoconstrictive activity.
Read Also: Hypercapnia may treat Migraine without medicines
"Headache disorders like a migraine and cluster headache affect each person differently, and many patients spend years cycling through different medications to effectively diagnose and treat their symptoms," said Gudarz Davar, M.D., vice president, Neurology Development, Lilly Bio-Medicines. "Lilly has spent the last 25 years researching innovative therapies to treat headache disorders, and we are thrilled to be one step closer to potentially providing new and different options with lasmiditan for the acute treatment of a migraine.
The NDA for lasmiditan includes data from two Phase 3 single-attack studies (SAMURAI and SPARTAN), which evaluated the safety and efficacy of lasmiditan for the acute treatment of a migraine. In both studies, at two hours following the first dose of lasmiditan, the percentage of patients who were migraine pain-free was significantly greater compared to placebo. These results were significant across all studied doses. Lasmiditan also met the key secondary endpoint, with a significantly greater percentage of patients free of their most bothersome symptom (MBS) compared with placebo at two hours following the first dose. In these studies, patients chose their MBS from sensitivity to light, sensitivity to sound or nausea.
Read Also: New once-monthly injection approved for Migraine Prevention
The most commonly reported adverse events after lasmiditan dosing were dizziness, paresthesia, somnolence, fatigue, nausea, muscle weakness, and numbness. Data from these studies were presented at the American Headache Society (AHS) annual meeting and the American Academy of Neurology (AAN) annual meeting.
The Company also announced plans to submit a supplemental Biologics License Application (sBLA) for Emgality (galcanezumab-gnlm) for the prevention of episodic cluster headaches in adults; the treatment was granted Breakthrough Therapy designation for this indication. Emgality, a calcitonin gene-related peptide (CGRP) antagonist, was approved in September 2018 to prevent migraines in adults.
Source : press release