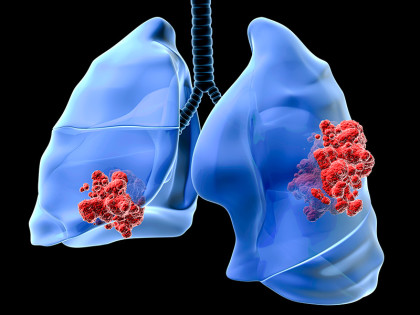 A huge study identified several new variants for lung cancer risk that will translate into improved understanding of the mechanisms involved in lung cancer risk.
Using the OncoArray genotyping platform developed by multiple cancer consortia, a recent large aggregated genomewide association study identifies new susceptibility loci for lung cancer, the leading cause of cancer mortality worldwide. Although tobacco smoking is the main risk factor, past studies have shown heritability of lung cancer estimated at 18%. Previous genomewide association studies have identified several lung cancer susceptibility loci but most of its heritability remains unexplained. This study undertook additional genotyping of lung cancer cases and controls.
The study was co-led by Christopher Amos, PhD, interim Director and Associate Director for Population Sciences, Norris Cotton Cancer Center; James McKay, PhD, International Agency for Research on Cancer; and Rayjean Hung, PhD, Lunenfeld-Tanenbaum Research Institute and University of Toronto, along with many lung cancer investigators worldwide. It combined 14,803 cases and 12,262 controls of European descent with existing data, totaling 29,266 cases and 56,450 controls. Researchers identified 18 susceptibility loci achieving genome-wide significance, including 10 new loci. The new loci highlight the striking variation in patterns of risk between lung cancer subtypes adenocarcinoma and squamous lung cancer, with four loci associated with lung cancer overall and six loci associated with lung adenocarcinoma. Variants in several genes related to telomere function were found to play an important role in contribution to adenocarcinoma risk but not squamous carcinoma risk.
Their findings, "Large-scale association analysis identifies new lung cancer susceptibility loci and heterogeneity in genetic susceptibility across histological subtypes" will be published in an upcoming issue of Nature Genetics.
"What is particularly exciting is the magnitude of the study along with the new findings of genes influencing lung cancer which have not previously been reported" said Amos. "This study definitely leads to new ideas about mechanisms influencing lung cancer risk. In particular we identified several novel variants influencing telomere function that impact risk for lung adenocarcinoma. In addition, we found variation around a subunit of the nicotinic receptor that affects lung cancer risk and smoking behavior and appears to have a primary effect in the cerebellum, which has rarely been implicated in affecting addictive behaviors." Further studies will provide a better understanding of the role of target genes in influencing lung cancer risk, smoking behavior and smoking effects on brain biology.
For more details click on the link : James D McKay, Rayjean J Hung, Younghun Han, Xuchen Zong, Robert Carreras-Torres, David C Christiani, Neil E Caporaso, Mattias Johansson, Xiangjun Xiao, Yafang Li, Jinyoung Byun, Alison Dunning, Karen A Pooley, David C Qian, Xuemei Ji, Geoffrey Liu, Maria N Timofeeva, Stig E Bojesen, Xifeng Wu, Loic Le Marchand, Demetrios Albanes, Heike Bickeböller, Melinda C Aldrich, William S Bush, Adonina Tardon, Gad Rennert, M Dawn Teare, John K Field, Lambertus A Kiemeney, Philip Lazarus, Aage Haugen, Stephen Lam, Matthew B Schabath, Angeline S Andrew, Hongbing Shen, Yun-Chul Hong, Jian-Min Yuan, Pier Alberto Bertazzi, Angela C Pesatori, Yuanqing Ye, Nancy Diao, Li Su, Ruyang Zhang, Yonathan Brhane, Natasha Leighl, Jakob S Johansen, Anders Mellemgaard, Walid Saliba, Christopher A Haiman, Lynne R Wilkens, Ana Fernandez-Somoano, Guillermo Fernandez-Tardon, Henricus F M van der Heijden, Jin Hee Kim, Juncheng Dai, Zhibin Hu, Michael P A Davies, Michael W Marcus, Hans Brunnström, Jonas Manjer, Olle Melander, David C Muller, Kim Overvad, Antonia Trichopoulou, Rosario Tumino, Jennifer A Doherty, Matt P Barnett, Chu Chen, Gary E Goodman, Angela Cox, Fiona Taylor, Penella Woll, Irene Brüske, H-Erich Wichmann, Judith Manz, Thomas R Muley, Angela Risch, Albert Rosenberger, Kjell Grankvist, Mikael Johansson, Frances A Shepherd, Ming-Sound Tsao, Susanne M Arnold, Eric B Haura, Ciprian Bolca, Ivana Holcatova, Vladimir Janout, Milica Kontic, Jolanta Lissowska, Anush Mukeria, Simona Ognjanovic, Tadeusz M Orlowski, Ghislaine Scelo, Beata Swiatkowska, David Zaridze, Per Bakke, Vidar Skaug, Shanbeh Zienolddiny, Eric J Duell, Lesley M Butler, Woon-Puay Koh, Yu-Tang Gao, Richard S Houlston, John McLaughlin, Victoria L Stevens, Philippe Joubert, Maxime Lamontagne, David C Nickle, Ma'en Obeidat, Wim Timens, Bin Zhu, Lei Song, Linda Kachuri, María Soler Artigas, Martin D Tobin, Louise V Wain, Thorunn Rafnar, Thorgeir E Thorgeirsson, Gunnar W Reginsson, Kari Stefansson, Dana B Hancock, Laura J Bierut, Margaret R Spitz, Nathan C Gaddis, Sharon M Lutz, Fangyi Gu, Eric O Johnson, Ahsan Kamal, Claudio Pikielny, Dakai Zhu, Sara Lindströem, Xia Jiang, Rachel F Tyndale, Georgia Chenevix-Trench, Jonathan Beesley, Yohan Bossé, Stephen Chanock, Paul Brennan, Maria Teresa Landi, Christopher I Amos. Large-scale association analysis identifies new lung cancer susceptibility loci and heterogeneity in genetic susceptibility across histological subtypes. Nature Genetics, 2017; DOI: 10.1038/ng.3892
The following two tabs change content below.
Anjali Nimesh
Anjali Nimesh Joined Medical Dialogue as Reporter in 2016. she covers all the medical specialty news in different medical categories. She also covers the Medical guidelines, Medical Journals, rare medical surgeries as well as all the updates in medical filed. She is a graduate from Dr. Bhimrao Ambedkar University. She can be contacted at editorial@medicaldialogues.in Contact no. 011-43720751
Latest posts by Anjali Nimesh (see all)