Lancet Report: Indian medical schools far behind in medical research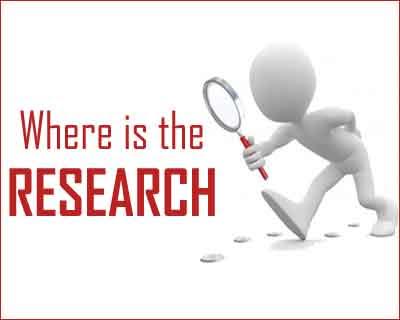 A recent report published in the reputed journal Lancet commenting on medical colleges churning out doctors and no research publications is indeed a food for thought for both the government of India and the Medical council of India. Both at policy and administrative levels authorities need to ponder on how to make study of medicine rich in research as well.
The report cites various reasons for a near total absence of research in the medical field; some of these being lack of funds, not just in India, but globally; the Indian medical syllabi shortcoming, which does not emphasize on research. The report also talks of massive patient burden, reduced faculty, and the profession becoming a business as reasons for research diminishing in all parts of the country, according to the TOI.
According to the study, 332 out of 579 (57%) medical colleges haven't come up with any research between 2005 and 2014. Looking at Kerala and Karnataka the study states ,25 of the institutions produced more than 100 research papers in a year but their contribution was a mere 4.3 % of the total output of 40.3%.
"The states with the highest number of private medical colleges fare the worst - more than 90% of the medical colleges in Karnataka and Kerala having published no paper. In contrast, the annual research output of the Massachusetts General Hospital was 4,600 and Mayo Clinic 3,700," the study added.
"India's medical schools have neglected research as a focal point of academics and they produce few publications," it added.
Quoting a recent report of the Parliamentary Standing Committee on Health, which called for the scrapping of the Medical Council of India (MCI), the report goes ahead to mention the Supreme Court's view of the situation, which has not minced words by describing the state of medical colleges as 'rotten' and saying that research was seen as a 'non-profitable activity' by Indian medical schools.
In conclusion the study states, "A drastic overhaul of Indian medical education is necessary, similar to that initiated by Abraham Flexner in the US,"
Dr B S Ajai Kumar, renounced oncologist, founder and CEO, HealthCare Global Enterprises Ltd commenting on the reports analysis added his views saying lack of data and and irregular patient follow-up were also reason for inadequate research. "Definitely, research has been neglected in Indian medical schools over the years. The institutions focus on academics and clinical analysis and ignore research. There is enormous clinical material for research in India," he added.
He was of the opinion that Indian medical schools, did not encourage students to come up with publications based on their own research they were merely pushed to read journal reviews."We are innovators but copy cats. We don't invent drugs but use the same compound in a drug to come up with generic ones," was how he defined the current scenario. Speaking about the western ways he said " In the West, multiple medical schools come together to work, something which should be encouraged here too."
Ending on a positive note oncologist Kumar said . "Things are changing now. Collaborative research is picking up,"
Dr Sudarshan Ballal, Nephrologist & Chairman, Manipal Hospital, cited insufficiency of funds as the primary reason for spartan research .
"When I was studying in the US, I was given six months off from patient care only to focus on research. But over the years, the period shrunk to one month. Lack of funding is affecting research everywhere," he added.
He however, was of the opinion that India may be lagging behind in research, however,it was producing doctors of eminence and expertise.
Source : with inputs