................................ Advertisement ................................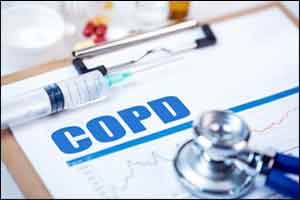 Once-daily umeclidinium (UMEC) is more effective in improving lung functions in patients with chronic obstructive pulmonary disease (COPD) compared to twice-daily salmeterol (SAL), according to a recent study presented at the American Thoracic Society International Conference held from May 17-22, in Dallas, Texas. The participants were naive to maintenance therapy or were treated with a single maintenance bronchodilator.
COPD is an inflammatory disease of the small airways in the lungs. The disease accounts for 10.9% of the total deaths in India in 2016 and is the second leading cause of death in the country.
In patients with COPD, symptom relief is reported to be similar when using long-acting muscarinic antagonists (LAMAs)  or long-acting beta 2 agonists (LABAs). Also, in low-risk patients, no choice of first-line therapy is advocated. In contrast, in high-risk patients, fewer exacerbations are observed with LAMA therapy compared with LABA.
................................ Advertisement ................................
E.M. Kerwin, Clinical Research Institute of Southern Oregon, Medford, Oregon, US, and colleagues compared UMEC, a once-daily LAMA, and salmeterol, a twice-daily LABA in symptomatic inhaled corticosteroid (ICS)- free patients at low exacerbation risk, across a range of patient-reported outcomes (PROs).
................................ Advertisement ................................
The Early Maximization of Bronchodilation for Improving COPD Stability (EMAX) trial enrolled 1613 maintenance-naive or single maintenance bronchodilator-treated patients with COPD. they were randomly assigned to receive either umeclidinium (62.5 mcg) (n=804) or twice-daily salmeterol (50 mcg) (n=809). Functional respiratory measures and risk for a first COPD exacerbation were compared between the 2 groups.
Also Read: Azithromycin reduces treatment failure in acute exacerbations of COPD, finds clinical trial
The researchers found that:
Patients taking once-daily umeclidinium showed significantly greater improvement in lung function across all time points and measurements compared with those taking twice-daily salmeterol.
More patients in the umeclidinium group were responders according to the St. George's Respiratory Questionnaire compared with those in the salmeterol group (41% vs 36%, respectively), but the number of responders for other patient-reported outcomes was similar between the treatments.
Fewer patients receiving umeclidinium than salmeterol experienced an on-treatment exacerbation; although this difference did not reach statistical significance.
Also Read: FDA approves Trelegy Ellipta for use in COPD
Click here to access the abstract
Medha Baranwal joined Medical Dialogues as an Editor in 2018 for Speciality Medical Dialogues. She covers several medical specialties including Cardiac Sciences, Dentistry, Diabetes and Endo, Diagnostics, ENT, Gastroenterology, Neurosciences, and Radiology. She has completed her Bachelors in Biomedical Sciences from DU and then pursued Masters in Biotechnology from Amity University. She has a working experience of 5 years in the field of medical research writing, scientific writing, content writing, and content management. She can be contacted at medha@medicaldialogues.in. Contact no. 011-43720751
To know about our editorial team click here
................................ Advertisement ................................