KIMS Hospitals performs Robotic Surgery for Pancreatic Cancer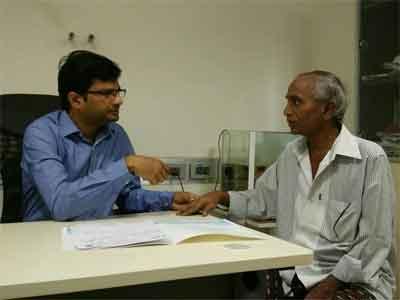 Hyderabad: KIMS Hospitals, the Hyderabad-based multispecialty healthcare chain, has conducted most challenging and complex robotic procedure for pancreatic cancer. Termed as one of the most encouraging developments in the medical field, robotic whipples procedure is already being implemented for treating several cancers. The onco-surgeons' team at KIMS Hospitals, Secunderabad, led by Dr. Madhu D, Consultant Surgical Oncologist & Minimal Invasive Surgeon and Robotic Surgeon, had conducted robotic surgery for three patients suffering from pancreatic cancer in various stages and medical conditions.
Also referred to as pancreaticoduodenum, Whipple surgery removes the head of the pancreas, where most tumors occur. Robotic is more advanced than laparoscopic where the surgeon will make small incisions in abdomen and insert instruments including a camera. Da Vinci robotic device is used and it moves more precisely and easily than the human hand. In an open surgery, a large abdominal incision has to be made to access all the organs.
Elaborating on the developments, Dr Madhu explained that in the last few months, KIMS Hospitals has successfully intervened pancreatic cancer patients through advanced. "The robotic method has advantages over the conventional open surgeries.
The advanced procedures have ensured that the patient can be shifted to the room and not ICU, something where the cost factor comes down for the patient's family. The procedure is highly advanced and we are equipped well to operate only on the affected with advanced magnification and high precision. The scope of intervening with the surrounding areas is drastically reduced, minimizing the risks of conventional surgery. It is surely a better job with good margin of success," Dr Madhu said.
KIMS Hospitals has conducted the robotics whipples procedure successfully on three patients in the recent past. The first patient, Mr. Panduranga aged around 60 years had a big tumour measuring 12 cms x 9 cms and locally advanced. The other two patients, one a 55-year old woman and another, 60-year-old male too had cancer in various stages. Pancreatic cancer is seen across the young and the elderly, but the incidence is found to be high among the elderly owing to various reasons such as smoking, alcoholism and also genetic issues (in young-stars).
Dr Madhu spoke more on the advantages of robotic whipples surgery explaining that the procedure, besides being precision-guided and advanced, reduces the hospital stay and makes way for quicker recovery too. "It is highly encouraging for surgeons treating a patient in the advanced stage of cancer and removing such a heavy tumour. KIMS Hospitals has achieved this milestone successfully, moreover with three patients finding treatment at the right time," he said adding robotic whipples has been tested for pancreatic cancer at many places across the country. "There may be challenges that are yet to be overcome at other hospitals such as challenges in tumour removal and failures in reconstruction, which is joining parts properly after the tumour has been removed. There is also ample challenge in initial stages too. KIMS Hospitals has successfully crossed all these hurdles in robotic whipples surgery for pancreatic cancer. The surgery takes on an average 6-7 hours," he said. Dr Madhu also added that the patients are recovering better and faster.
Congratulating the oncology team and the staff, Dr Bhaskar Rao, MD and CEO, KIMS Hospitals, said that it is a matter of pride and sense of accomplishment for KIMS Hospitals to consistently achieve breakthroughs in robotic procedures. "The latest success in treating pancreatic cancer through tumour removal and reconstruction is a great achievement dedicated to the fight against cancer. KIMS Hospitals is committed to adopt new methods and technology to sustain the fight and commitment against cancer."
Source : Press Release