KIMS Doctors successfully remove accidentally swallowed tooth denture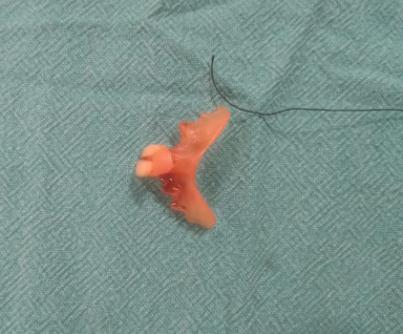 Foreign bodies are most of the times accidentally swallowed. A case of swallowing of dentures has been reported in a patient of Mahabubnagar district which was successfully removed by KIMS Doctors.
A team of expert doctors from the KIMS Hospital, Secunderabad under the supervision of Dr C. Subramanyam, Consultant ENT Surgeon performed a complex procedure to remove a tooth-denture accidentally swallowed by a victim.
Children may swallow small, round foods such as grapes, peanuts, or candies, which may become stuck. Small kids often swallow a wide variety of inedible objects (such as coins and disk or button batteries, some of which become stuck in the oesophagus. People who wear dentures, older people, and intoxicated adults are at risk of accidentally swallowing inadequately chewed food particularly meat such as steak or hot dogs, which may become stuck in the esophagus.
Mr. Yellaiah, a 43-year-old businessman from Mahabubnagar district, who had a fall at his workplace, fortuitously swallowed his tooth denture; which got stuck in his throat resulting in severe pain and difficult to sallow. Initially, a local doctor checked Mr. Yellaiah and referred him to consult an expert specialist at KIMS hospitals, Secunderabad. Medical Gastroenterologists conducted Endoscopy to remove the foreign body but did not come.
Expert opinion was sought from ENT surgeons to conduct endoscopic procedure, and from Endocrinologists to bring high sugar levels in patient under control. Put under general anaesthesia, Orotracheal Intubation was used on the patient to remove the foreign body using Esophagoscopic procedure.
Commenting on the procedure, Dr. C. Subramanyam, Consultant ENT Surgeon, KIMS hospitals said, "This was a complex procedure that required utmost care from all dimensions; and I thank the entire team at KIMS, Secunderabad who have played a role to the best of their abilities to make the surgery a success. And as an advice to all, I suggest those requiring dental care do not go for tooth dentures for one or two teeth, and instead opt for permanent implants."