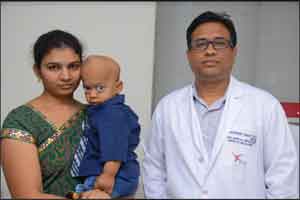 Hyderabad : The Krishna Institute of Medical Sciences (KIMS Hospitals) gave a new lease of life to a two-year-old child (Master Sandeep) suffering from osteopetrosis or stone bone condition that was leading to frequent breaking of bones.
The Team of experts at the KIMS Hospitals, led by Dr Narender Kumar Thota, a Bone Marrow Transplant expert, has transplanted the bone marrow from the father to the child, to help the child gain the bone strength he lacked in the past.
Commenting on the complex procedure performed by him and his team, Dr Narender Kumar Thota, who has a Fellowship in Hemato Oncology and bone marrow transplant said, "The child was born with multiple health abnormalities, and was fast losing his eye sight. Unable to stand, and breaking bones due to own weight, the medical conditions that needed immediate attention. And after all necessary assessments done, bone marrow transplant was the only possible solution to arrest the deteriorating condition of the young patient."
"Father's bone marrow suited the child perfectly, which is a rare occurrence. Post transplant, the child is recovering fast, and is able to walk with support. Considering the gradual progress the child is making, we are confident, he would be able to move on his own soon, without any kind of difficulties."
The transplant procedure performed using on the child is unique on many fronts. And considering the rarity of this case, the Team at KIMS Hospitals is confident; this procedure will be a point of reference to such complex health conditions in young patients.