KIMS Doctors remove 10.2 kg tumour from a patient's abdomen
Hyderabad: After a complex surgery, Doctors of KIMS Hospital, Secunderabad gave a new lease of life to a farmer, Mr. Srinivas from Warangal who was suffering from abdominal cancer for the past 8 to 10 months. In the surgery that lasted for more than 6 hours, doctors successfully removed a giant tumor, weighing 10.23 kgs, from the abdomen of a patient. The patient was experiencing discomfort and was confined to the house for almost 3 to 4 months because of the stomach size and weight. He lost more than 10 kgs weight in those few months.
At presentation, the scan revealed that the tumor was occupying almost 80% of the space in the abdomen. Also, the tumour had grown to an extent that the entire diaphragm of the patient was pushed up making it difficult for the patient to breathe. He complained that he had to even sleep sitting in a chair and spent most time sitting in the chair. Further the tumour was compressing on the vital structures in the abdomen including the liver, kidneys, stomach, intestines and major blood vessels.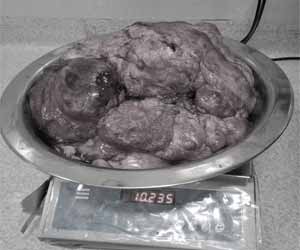 Dr. Nagendra Parvataneni, Consultant Surgical oncology, the surgeon who operated on the patient said, "The tumour had occupied almost the entire abdominal cavity due to which the patient was unable to stand or sleep. The long-term compression of such large tumours on the vital organs could be detrimental. The patient is a farmer and did not notice any changes initially and gradually his stomach was enlarging and later was unable to walk even for a few meters. Gradually he was unable to even do his house chores. This made him see a doctor and was tested. He later approached several hospitals for treatment. During this delay, the tumour grew further, and the patient was crippled because of the massive size and was confined to a chair. The patient's attendants sort help from the experts at KIMS Hospitals."
Dr Nagendra Parvataneni and his team members along with the anesthesia team headed by Dr Naresh Reddy, Consultant Anesthesiologist performed this complex operation after thoroughly investigating the patient. The surgeon opined that such operations require extremely precise dissection in order to prevent injury to vital organs like liver, intestines, kidneys and blood vessels. In this patient, the tumour was stuck to the left kidney and pancreas and had to deal very delicately with these two organs. Further posteriorly the tumour was stuck to the backbones from inside. It took about 6 tedious hours to get the tumour out. The patient was in the SICU for a period of 48 hrs and then shifted to the ward was discharged on the 8th day. The histopathology of the tumour was reported as liposarcoma.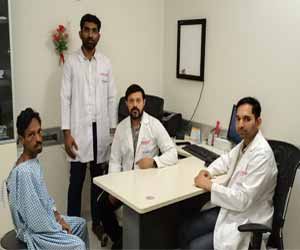 Although this kind of cancers are commonly seen the size of the tumour makes it unique. The largest liposarcoma tumour to be reported and published in literature across the world is 32 kgs and 18 kgs in western patients. But considering the body habitus of a western individual who are much larger in size compared to our subcontinent population the 10 plus kgs is huge. This patient was only 5'1" tall. Considering his small stature, the tumour is monstrous. The largest such liposarcoma tumour reported in Indian published literature is 12 kgs. For comparison, the average birth weight for Indian babies is around 3 to 3.5 kgs