KIMS Doctors Perform First Robotic Spleen Preserving Surgery
Hyderabad : The Krishna Institute of Medical Sciences (KIMS Hospitals) Secunderabad, has emerged as the first centre in India for achieving the distinction of performing robotic spleen preserving distal pancreatectomy on a male patient.
The case is about a 39 year-old patient from Hyderabad, who regularly suffered due to dropping sugar levels. This phenomenon is found in one in one lakh people. The patient, was diagnosed with a small mass in pancreas formed by insulin secreting cells (Insulinoma). As opposite to other diabetic cases, this patient had high levels of insulin in body, resulting in hypoglycemia or low sugar levels. He uses to drink lots of sugar containing drinks to avoid low sugars, which resulted in weight increase by 12 kilograms.
The patient, restricted his physical activity with fear of dropping his sugar levels. Low blood sugar levels caused by the tumor can trigger confusion, anxiety, personality disorders, aggressiveness, rapid heartbeat, sweating, palpitations, feelings of hunger, dizziness and drowsiness. Low sugar levels could also result in losing consciousness and it can even lead to seizures (fits). The condition resulted in damaging vital organs of this young-aged patient.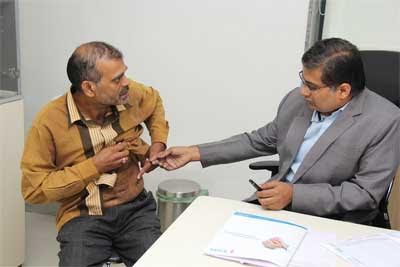 The spleen preserving distal pancreatectomy is relative common procedure often performed by open or laparoscopic approach. The Robotic spleen preserving distal pancreatectomy has been introduced by KIMS Hospitals for the first time in Hyderabad. The procedure saves patients from being left with a big scar on the abdomen, and is as effective as the routine procedure.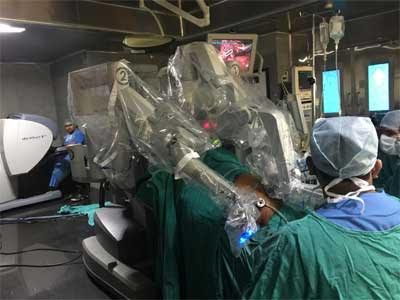 Commenting on the breakthrough procedure, Dr Daga Sachin V, Consultant Surgical Gastroenterologist, KIMS Hospitals said, "Has vessels in a vital organ like spleen are closely adherent to pancreas it requires meticulous dissection. Robotic surgery due to small incisions, less trauma to the body and greater surgeon precision, robotic surgery provides the following benefits over traditional open procedures including shorter hospital stay, less blood loss, less pain fewer complications, including less risk of infection and faster return to normal activities. And we achieved the best outcome using this procedure in this particular case. The patient was discharged within four days of operation, and he returned to work soon. The sugar levels of the patient returned to normal levels, and thus his weight gain was controlled."
For surgeons, robotic surgery is more precise due to better visualization of the surgical field, correction for tremors in hand movements and greater maneuverability of instruments.
Source : Press Release