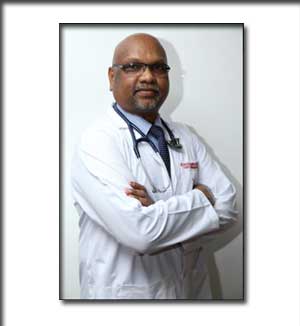 Hyderabad : This is the case of a 23-year-old young working lady, who recovered from a rare fatal condition severe bone marrow necrosis that could have risked the young lady's precious life. She has been suffering from a rare disorder called APLA Syndrome, this related to sticky blood disorder. The APLA syndrome leads to the condition of blood clotting in the arteries and veins, that could lead to deep vein thrombosis, pulmonary thromboembolism (big clot) and recurrent miscarriages in young women. It is also known to cause very low platelet counts.
Commenting on the rare condition and how KIMS played vital a role in helping the patient battle the condition, Dr Sarath Chandra Mouli, Clinical director, Rheumatology department, KIMS Hospitals said, "When this 23-year-old patient, Laxmi from Hyderabad approached us for treatment, her blood platelet count was has low as 5000; while the count in a normal individual is between 150,000 – 400,000. On arrival at KIMS, the patient's condition was so critical that her body stopped responding to the IV(intra venous) steroid pulse therapy." Her bone marrow biopsy revealed severe bone marrow necrosis, which led to severe low platelet count.
Assessment of Patient's condition prompted Dr Sarath and his team of experts in Rheumatology take a highly unconventional treatment route. Bone marrow transplant was ruled out as this is very expensive treatment procedure, associated with some risk and that has no reference points from experts in the field or on online.
Taking a unique route for treatment, the patient was kept on a 5-days course of IVIG (intra venous immuno globulin) that resulted in improving the blood platelet count from the current abysmal levels. Constant observation helped the patient improve the platelet count to 247,000. With her condition improving to best possible levels, the patient has started attending to her job, and is fast attaining the best physical condition. Team of Doctors in the Rheumatology department at KIMS hospital are overwhelmed with the happiness of Laxmi, who recovered completely with medication, without the need for bone marrow transplantation.