KGMU surgeons execute complicated cancer surgery by laparoscopic method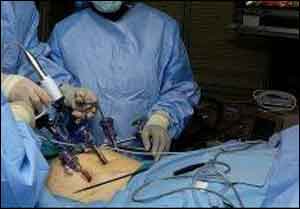 Doctors of surgical gastroenterology department of King George's Medical University (KGMU) have accomplished a rare feat by performing Whipple surgery through the technically-challenging minimally invasive laparoscopic method. The patient is a 38-year-old woman a resident of Lucknow who was suffering from pancreatic cancer and reported to the hospital for treatment.
The patient had symptoms of jaundice for a long time not improving on treatment and it turned out to be a case of pancreatic cancer after investigations.
The Whipple procedure, or pancreaticoduodenectomy, is the most common surgery to remove tumours in the pancreas. Surgery to remove a tumour offers the best chance for long-term control of all pancreatic cancer types. The Whipple removes and reconstructs a large part of the gastrointestinal tract and is a difficult and complex operation. It is generally conducted as an open surgery where an incision of 20-25 cm is made on the abdomen to remove the head of the pancreas, duodenum (first part of the small intestine), gallbladder and bile duct.
"A big incision is made in open surgery. While the laparoscopic method involves precise manoeuvring and takes longer than an open procedure. Laparoscopy has less blood loss and faster post-operative recovery," said the head of the department, Prof Abhijit Chandra to TOI.
It was the third such surgery at KGMU, and an achievement in itself since the procedure is performed at very few centres in the world. The team of surgeons included Dr Abhijit Chandra, Dr Vivek Gupta, Dr Saket Kumar, Dr Pradeep Joshi, Dr Pawan and Dr Ajay while the anaesthesia team comprised of Dr Anita Malik, Dr RR Singh along with resident doctors.
In the surgery, the patient's pancreatic head was not just removed with the laparoscopic method but it was also reconstructed with its help in the 10-hour-long Whipple surgery.
Dr Saket said that the pancreatic surgery is often referred to as 'tiger's territory' due to the complexities involved and laparoscopic removal of a pancreatic tumour is a major achievement. Dr Vivek Gupta said that the patient is doing fine after the surgery. The patient was discharged on Sunday after the recovery.