Keytruda Gains First Cervical Cancer Indication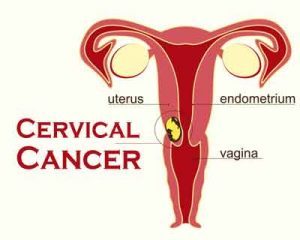 The Food and Drug Administration approved pembrolizumab (Keytruda, Merck and Co. Inc.) for patients with recurrent or metastatic cervical cancer with disease progression on or after chemotherapy whose tumors express PD-L1 (CPS ≥1) as determined by an FDA-approved test.
The drug got its approval after it was investigated in a Keynote -158 study. The trial which was a multicenter, non-randomized, open-label, multi-cohort included 98 patients with recurrent or metastatic cervical cancer. Patients were treated with pembrolizumab intravenously at a dose of 200 mg every 3 weeks until unacceptable toxicity or documented disease progression.
Among the 98 patients, approval was based on 77 (79%) patients who had tumors that expressed PD-L1 with a CPS ≥1 and who had received at least one line of chemotherapy for metastatic disease. PD-L1 status was determined using the PD-L1 IHC 22C3 pharmDx Kit.
For the 77 patients whose tumors expressed PD-L1 with a CPS ≥1, the ORR was 14.3 percent, with a complete response rate of 2.6 percent and partial response rate of 11.7 percent. Among the 11 responding patients, median DOR was not yet reached (range, 4.1 to 18.6+ months) and 91 percent experienced a duration of response of six months or longer. The median follow-up time was 11.7 months. No responses were observed in patients whose tumors did not have the PD-L1 expression (CPS<1).
Immune-mediated adverse reactions were noted with KEYTRUDA, including pneumonitis, colitis, hepatitis, endocrinopathies, nephritis, severe skin reactions, and solid organ transplant rejection.
KEYTRUDA is now the first anti-PD-1 therapy approved for the treatment of advanced cervical cancer, providing an important new second-line option for certain patients with this disease," said Dr. Roy Baynes, senior vice president and head of global clinical development, chief medical officer, Merck Research Laboratories. "This approval also marks the first indication for KEYTRUDA in gynecologic cancer and reflects our ongoing commitment to bring forward innovative treatment options across a broad range of cancers, including cancers that disproportionately affect women."
KEYTRUDA is an anti-PD-1 therapy that works by increasing the ability of the body's immune system to help detect and fight tumor cells. KEYTRUDA is a humanized monoclonal antibody that blocks the interaction between PD-1 and its ligands, PD-L1 and PD-L2, thereby activating T lymphocytes which may affect both tumor cells and healthy cells.
Keytrudais already indicated to treat various cancers, including melanoma, lung cancer, head and neck cancer, classical Hodgkin lymphoma, urothelial carcinoma, microsatellite instability-high (MSI-H) cancer, and gastric cancer.
Keytruda for injection is available as a single-dose vial containing 50mg lyophilized powder. Keytruda injection is available as a 100mg/4mL solution in single-dose vials. The recommended pembrolizumab dose for treatment of cervical cancer is 200 mg every 3 weeks.