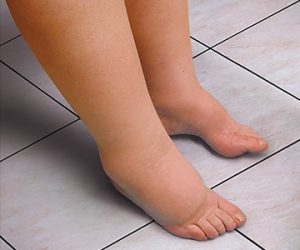 A new study published in the journal JCI Insight supports the utility of targeted anti-inflammatory therapy with ketoprofen in patients with lymphedema. Ketoprofen is currently approved by the Food and Drug Administration.
"Ketoprofen restores the health and elasticity of the skin," said Stanley Rockson, MD, professor of cardiovascular medicine at Stanford. "I believe it will reduce recurrent infection. It can also reduce swelling."
Rockson and associates conducted a study to find out the efficacy of ketoprofen, an NSAID in lymphedema in humans.
Read Also: Hope for first drug against lymphedema, a cancer complication
To test ketoprofen in humans, Rockson conducted two pilot trials.
At first, the researchers conducted an exploratory open-label trial. Patients with either primary or secondary lymphedema received ketoprofen 75 mg by mouth 3 times daily for 4 months. The major outcomes were changes in histopathology, with skin thickness, limb volume, and tissue bioimpedance changes.
The authors enrolled 21 lymphedema patients in the open-label trial, from November 2010 to July 2011. The study found that histopathology and skin thickness were significantly improved at 4 months compared with baseline.
Based on the positive findings, the investigators next conducted a placebo-controlled trial, with the primary outcome defined as a change in skin thickness, as measured by skin calipers. Secondary endpoints for this second study included histopathology, limb volume, bioimpedance, and systemic inflammatory mediators.
In the follow-up, double-blind, placebo-controlled trial, 34 patients were included from August 2011 to October 2015, with 16 ketoprofen recipients and 18 placebo-treated subjects.
The study found that no serious adverse events occurred. The ketoprofen recipients demonstrated reduced skin thickness, as well as improved composite measures of histopathology and decreased plasma granulocyte CSF (G-CSF) expression.
Researchers also examined the anatomy of the skin cells and confirmed that ketoprofen worked by unblocking the molecular pathway that was causing the inflammation and restricting the body's ability to repair its own lymphatic system.
"When you look at skin from lymphedema patients under the microscope, you see a dramatic increase in cell density and increase in connective tissues and fluid around the cells," Rockson said. "What we saw in skin biopsies after the four months of ketoprofen was a reduction in that thickness. All that cell density went away."
Read Also:  World's first super-microsurgery operation with 'robot hands'
"So many patients have gone through decades being told there is no medical treatment," said Rockson."Now, they can go to a drugstore and get a pill with a doctor's prescription. This new treatment doesn't cure lymphedema, but our studies show it has the capacity to make the illness more livable, more workable."
Lymphedema is a common but often ignored condition that stems from a damaged lymphatic system and results in swelling in one or more parts of the body, usually the legs. It can be hereditary or it can occur after a surgical procedure, infection, radiation or other physical trauma. The swelling, caused by a buildup of lymph fluid within the various layers of the skin, increases the risk of infections and can cause debilitating pain and a thickening of the skin that can restrict movement.
For reference log on to https://insight.jci.org/articles/view/123775