................................ Advertisement ................................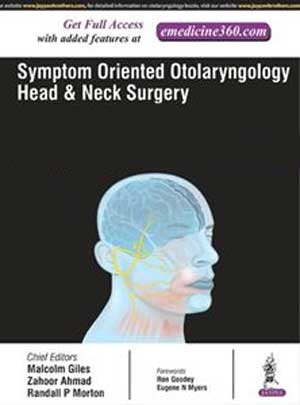 Jaypee Publishers recently released a three volume book on Symptom Oriented Otolaryngology Head & Neck Surgery to help doctors learn with a Patient-Based Approach rather than a Disease-Based Approach.The text covers all the likely presentations of a patient to an Otolaryngologist-Head and Neck Surgeon.Principle Editors  of the book include Randell P Morton, Zahoor Ahmad, and Malcolm Giles
The first Volume, Symptom Oriented Otolaryngology Head & Neck Surgery: Head & Neck and Laryngology  deals with head & neck and laryngology and is written to provide the reader with the information necessary to proceed with a diagnostic evaluation and plan of management including pearls, pitfalls and flowcharts.
The second Volume "Symptom Oriented Otolaryngology—Head and Neck Surgery: Rhinology and Facial Plastics" is presented in two section to cover both the topics of Rhinology and face plastics in detail . The first section deals with the rhinology includes clinical anatomy of the nose and sinuses, acute general nasal symptoms, nasal congestion and nasal obstruction, nasal discharge, postnasal drip, facial pain, sneezing, disorders of smell, bleeding nose (epistaxis), sleep-disordered breathing, functional and aesthetic analysis of the nose, trauma to nose, crooked nose, saddle nose, the patient wanting to alter Asian nose, prominent nose, nasal valve collapse, septoplasty and septal perforation. The second section discusses the facial plastics includes analysis of aging face, facial aging and role of botulinum toxin in aging face, brow ptosis and its management, mid-face lift, aesthetic surgery of the neck and submental region, correction of lids (blepharoplasty), drooping eyelids (ptosis), correction of ears (otoplasty), correction of small ears (microtia), facial weakness, pigmented and nonpigmented lesions of the face, local flaps for facial reconstruction, frontal sinus fracture, cleft lip and palate, craniosynostosis, etc
................................ Advertisement ................................
The third volume  "Symptom Oriented Otolaryngology—Head and Neck Surgery: Otology and Pediatrics" is aimed at empowering Medical Professionals to treat patients of all ages and both sexes, both medically and surgically.Divided into 2 sections and 36 chapters, the first section deals with otology and covers surgical anatomy and physiology of the ear, hearing loss, audiological testing, dizziness/balance problems, imaging of the temporal bone and lateral skull base in otology, tinnitus, aural fullness, discharging ear, facial palsy, etc. The second section is on pediatrics and discusses on nasal obstruction, nasal discharge, epistaxis, snoring child with possible sleep apnea, drooling, hoarse voice, tongue tie, acute mastoiditis, neck lumps etc
................................ Advertisement ................................
The book is available online and the online version can be purchased at the site 'https://emedicine360.com/. To check out the book, you can click on the following links
Meghna A Singhania is the founder and Editor-in-Chief at Medical Dialogues. An Economics graduate from Delhi University and a post graduate from London School of Economics and Political Science, her key research interest lies in health economics, and policy making in health and medical sector in the country.
She can be contacted at meghna@medicaldialogues.in.
Contact no. 011-43720751
................................ Advertisement ................................