Ivacaftor for children with Cystic Fibrosis aged 12-24 months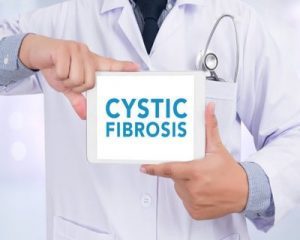 Ivacaftor (Kalydeco) appears safe and effective for children with cystic fibrosis (CF) aged 12-24 months, according to a study recently published in the journal The Lancel Respiratory Medicine. Cystic fibrosis is an inherited disorder that causes severe damage to the lungs, digestive system and other organs in the body. Cystic fibrosis affects the cells that produce mucus, sweat, and digestive juices.
Margaret Rosenfeld and his associates conducted a study to assess the use of the efficacy of Ivacaftor in children aged 12 to <24 months. Ivacaftor is generally safe and effective in patients aged 2 years and older who have cystic fibrosis and specific CFTR mutations.
The ARRIVAL study was a phase 3, single-arm, two-part, multicentre study. Children aged 12 to <24 months were included in the study and had a confirmed diagnosis of cystic fibrosis and could participate in one or both parts of the study.
Children received 50 mg (body weight 7 to <14 kg) or 75 mg (body weight ≥14 to <25 kg) ivacaftor orally every 12 h. In study part A, children received ivacaftor for 3 days plus one morning. In study part B, children received 24 weeks of treatment.
Primary endpoints were pharmacokinetics (part A) and safety (parts A and B) in children who received at least one dose of ivacaftor. Secondary endpoints in part B were pharmacokinetics in children who received at least one dose of ivacaftor and absolute change from baseline in sweat chloride concentration.
Key findings:


6 children achieved sweat chloride levels consistent with normal CFTR function


Sweat chloride concentrations fell significantly from baseline to 24 weeks.


Fecal elastase increased; amylase, lipase, and immunoreactive trypsinogen diminished.


Normal growth maintained


In 5 children, baseline liver function test values multiplied


The study concluded that Ivacaftor was generally safe and well tolerated in children aged 12 to <24 months for up to 24 weeks and was associated with rapid and sustained reductions in sweat chloride concentrations. Improvements in biomarkers of pancreatic function suggest that ivacaftor preserves exocrine pancreatic function if started early.
For more information log on to
https://doi.org/10.1016/S2213-2600(18)30202-9
Source : With inputs from the journalThe Lancel Respiratory Medicine