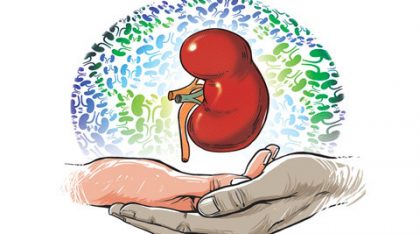 Conservative, non-surgical management is a feasible option even in cases of a higher grade of kidney injury, according to a study published in the Canadian Journal of Urology.
According to recent studies, sixteen percent of renal (kidney) trauma occurs from a penetrating injury, such as a gunshot wound, stabbing or piercing injury from a car accident, If a patient is bleeding to death from the kidney, surgery can be life-saving. Risks of surgery, however, include potential injury to adjacent organs, loss of the kidney and longer recovery time. Postoperative renal failure is the most common complication for patients who undergo the removal of a kidney, called a nephrectomy, for renal trauma.
Sameer A. Siddiqui and his colleagues conducted a study to explore how non-operative management of these injuries stacks up to operative approaches.
The authors studied the records of 121 renal trauma patients, comparing those who underwent surgery with those who did not, noting their age, gender, mechanism of injury, injury severity and the other injuries.
The researchers concluded that conservative, non-surgical management is a feasible option even in cases of a higher grade of injury.
Read Also: Trimethoprim use in UTI has greater risk of acute kidney injury in elderly : BMJ
Traditionally, patients with penetrating trauma underwent surgery to explore the kidney and repair it," Siddiqui said. "It was common that kidneys had to be removed if the patient underwent surgery.
"The role of a non-surgical approach is emerging as an option and we're seeing that even many high-grade injuries can be managed without surgery, limiting the risks associated with surgery," Siddiqui said. "The main takeaway is that we can safely watch patients with penetrating trauma to the kidney frequently and the patient can avoid the risks of surgery and not risk losing their kidney."
For reference log on to https://www.slu.edu/news/2018/july/penetrating-kidney-trauma.php
The following two tabs change content below.
Vinay Singh
Vinay Singh joined Medical Dialogue as Desk Editor in 2018. He covers the medical speciality news in different medical categories including Medical guidelines, updates from Medical Journals and Case Reports. He completed his graduation in Biotechnology from AAIDU and did his MBA from IILM Gurgaon. He can be contacted at editorial@medicaldialogues.in . Contact no. 011-43720751
Latest posts by Vinay Singh (see all)