Is Surgery best option for Achilles rupture, explores BMJ study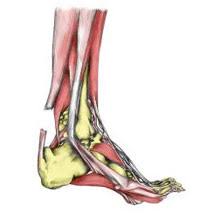 According to a meta-analysis, Surgery for Achilles tendon rupture is associated with a decreased risk for re-rupture — but an increased risk for complications. The study published in The BMJ finds it to be a mixed bag.
Rupture of the Achilles tendon is a frequently encountered injury, with an incidence of 31 per 100 000 per year, and is most common in the young to middle-aged active population, with a reported mean age ranging from 37 to 44 years. Recent studies indicate that the incidence of Achilles tendon rupture is still increasing owing to a more active older population
Yassine Ochen at Department of Surgery, University Medical Center Utrecht, 3508 GA Utrecht, Netherlands and associates performed a Systematic review and meta-analysis to compare re-rupture rate, complication rate, and functional outcome after operative versus nonoperative treatment of Achilles tendon ruptures.
The researchers extracted data independently in pairs, by four reviewers, with the use of a predefined data extraction file. Outcomes were pooled using random effects models and presented as risk difference, risk ratio, or mean difference, with 95% confidence interval.
The analysis included 10 randomized trials and 19 observational studies in which nearly 16,000 patients underwent surgery for Achilles rupture or received nonoperative treatment. Re-rupture occurred in 2.3% of patients in the operative group versus 3.9% in the nonoperative group. Complications, meanwhile, occurred in 4.9% versus 1.6%, respectively. The most common complication with surgery was infection; the most common with nonoperative treatment was deep-venous thrombosis. Return to sports or work did not seem to differ between the groups.
The authors concluded that that operative treatment of Achilles tendon ruptures reduces the risk of re-rupture compared with nonoperative treatment. However, re-rupture rates are low and differences between treatment groups are small (risk difference 1.6%). Operative treatment results in a higher risk of other complications (risk difference 3.3%).
The experts feel that although a "non-operative management is apparently cheaper and is bereft of surgical complications, less invasive surgical repair techniques performed under local anaesthesia in outpatients can be a safe and effective option. In conclusion- a personalized approach incorporating fully informed shared decision making remains essential and shall be the best choice. The final decision on the management of acute Achilles tendon ruptures should be based on patient-specific factors and shared decision making.
For further reference log on to :
doi:
https://doi.org/10.1136/bmj.k5120