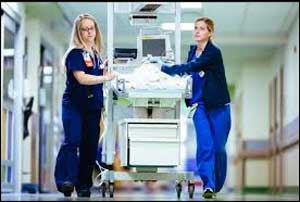 Rafael Jaimes, Ph.D., staff scientist at the Children's National Heart Institute is conducting a study to find out how pyruvate can help improve cardiovascular function in children who undergo cardiopulmonary bypass surgery and suffer from low cardiac output syndrome (LCOS)? American Heart Association is funding the research in question.
The objective of the compound is to stimulate the metabolic function, now treated by inotropic agents, such as dobutamine and milrinone. These agents ensure the optimal supply of oxygen from the heart to the brain, as well as to other organs in the body, after heart surgery. While these agents help patients with cardiac dysfunction, there is still a critical need for safe and effective therapies.
"If there is any detriment in cardiac output, the function of the heart begins to degrade," explains Dr. Jaimes. "You see a downward spiral effect with reduced cardiac output because the heart depends on its own perfusion, it needs to pump blood throughout the body to survive."
This is where the study of pyruvate and the subsidy will be applied. : Can pyruvate target the essential muscle of the heart and reverse this cardiac destabilization, and as soon as possible?
"By increasing the metabolic output of the local heart muscle, cardiac output increases," explains Dr. Jaimes. "That will lead to a better recovery."
The best recovery could be measured by how quickly a child recovers from cardiac surgery and by the time they spend in the hospital, which is clinically known as performance. A faster recovery could also influence a child's quality of life and reduce the overall costs of medical care.
According to preliminary data showing that pyruvate improves cardiac function in experimental models after ischemic injury, which is what happens when pediatric patients undergo cardiac surgery, Dr Jaimes believes that the results are likely to be will replicate in their preclinical models.
To begin with, you will test pyruvate with 100 samples of blood and tissue discarded from patients. Blood samples will be analyzed to detect metabolic markers, including measured pyruvate levels.
Part of what encouraged Dr Jaimes to study how this compound could complement or replace standard therapies was the encouragement he received from his mentors in the field. [19659005] "Nobody has investigated the use of pyruvate for almost 30 years," says Dr Jaimes. "It is not commercially favourable, it does not have any patent, it does not have much marketing capacity and there are no financial incentives, so it has been left out."
As part of a discussion with cardiologists at a medical conference in Washington, Dr Jaimes raised the idea of using pyruvate for pediatric cardiac surgeries and received positive comments.
"Once everyone's eyes lit up, I knew I was in something," says Dr Jaimes about the encouragement he received to continue with this study.
"You put lactate and glucose in your intravenous solutions," adds Dr. Jaimes. "Pyruvate is an essential nutrient, it's almost an essential sugar, so there's no reason not to put it in. If these cardiologists are intrigued by the project, maybe the American Heart Association is too."
In addition to funding this study, which could support future research on how metabolic manufacturers in the blood can be stimulated for accelerated recovery after cardiac surgery, the American Heart Association grant is specific to pediatric health outcomes.
Recovery from cardiac surgery is designed and created for adults, "says Dr. Jaimes." From our research in pediatrics, we know that children are not small adults. "
Dr. Jaimes explains that children they are different anatomically and physiologically, their cells even look and function differently, compared to adult cells, because they have not yet matured.
While congenital heart defects are rare, they affect 1 percent, or 40,000 births worldwide, often requiring multiple surgeries throughout a child's life LCOS affects 25 percent of patients after cardiopulmonary bypass and the time of treatment is important. Insufficient cardiac output after surgery could affect a child's long-term development, from reasoning, learning, attention and executive function to the development of a child. age-appropriate social and language skills.
"The metabolic insufficiencies I'm looking for," which can help improve the heart's muscle function, is just one piece of a bigger puzzle in pediatric cardiology, "says Dr. Jaimes about the ongoing research at the National Institute of the Heart for Children. "We already know that pyruvate is safe. We just need to see if it is effective in supporting the recovery of a patient in the intensive care unit."
Dr. Jaimes will work with his research mentor Nikki Posnack, Ph.D., assistant professor of the Children's National Heart Institute, in this preclinical study throughout the life cycle of the grant, which begins at the beginning of January 2019 and ends at the end of December 2020.