................................ Advertisement ................................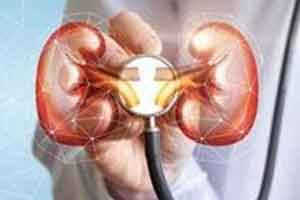 No significant difference in overall mortality was found at 90 days among patients with septic shock who had severe acute kidney injury assigned to either an early strategy for the initiation of renal replacement therapy or assigned to a delayed strategy, according to a study published in the journal NEJM.
Acute kidney injury is a common occurring complication in patients with septic shock and is an independent risk factor for death. Although renal-replacement therapy is the standard of care for severe acute kidney injury, the ideal time for initiation remains controversial.
"Dialysis is invasive and there's a risk of infection and bleeding. "So waiting could help to avoid these risks in certain patients who are going to spontaneously recover," said Barbar, the lead author of the study.
................................ Advertisement ................................
Read Also: Vitamin B3 has potential to prevent Acute Kidney Injury
................................ Advertisement ................................
Saber Barbar and associates conducted a multicentered, randomized, controlled trial where patients with early-stage septic shock who had severe acute kidney injury at the failure stage of the risk, injury, failure, loss, and end-stage kidney disease (RIFLE) classification system but without life-threatening complications related to acute kidney injury were assigned to receive renal-replacement therapy either within 12 hours after documentation of failure-stage acute kidney injury (early strategy) or after a delay of 48 hours if renal recovery had not occurred (delayed strategy).
The failure stage of the RIFLE classification system is characterized by a serum creatinine level 3 times the baseline level (or ≥4 mg per deciliter with a rapid increase of ≥0.5 mg per deciliter), urine output less than 0.3 ml per kilogram of body weight per hour for 24 hours or longer, or anuria for at least 12 hours. The primary outcome was death at 90 days.
Key study findings
58% of the patients in the early-strategy group (138 of 239 patients) and 54% in the delayed-strategy group (128 of 238 patients) had died.
In the delayed-strategy group, 38% (93 patients) did not receive renal-replacement therapy.
Criteria for emergency renal-replacement therapy were met in 17% of the patients in the delayed-strategy group (41 patients).
Read Also: IJCCM Study compares SLED or CRRT in acute Kidney Injury patients with Septic Shock
"In the absence of emergency criteria necessitating immediate dialysis, then clinicians can safely wait for 48 hours before starting renal replacement therapy, without incurring any extra risk for the patient, as long as they continue to monitor the patient closely for any signs of complication," Said Barbar.
Septic shock is a dangerous reaction to serious infections, such as pneumonia or peritonitis. It results in system-wide inflammation that causes blood pressure to plummet and major organs, such as the kidneys, to fail.
For reference log on to https://www.nejm.org/doi/full/10.1056/NEJMoa1803213
Vinay Singh joined Medical Dialogue as Desk Editor in 2018. He covers the medical speciality news in different medical categories including Medical guidelines, updates from Medical Journals and Case Reports. He completed his graduation in Biotechnology from AAIDU and did his MBA from IILM Gurgaon. He can be contacted at editorial@medicaldialogues.in . Contact no. 011-43720751
................................ Advertisement ................................