Is aspirin on its way out?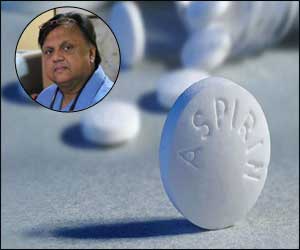 Apixaban + Clopidogrel, best combo for atrial fibrillation (AF) patients undergoing angioplasty.
More and more aging patients especially more than 70 years are presenting to the emergency department with AF and acute chronic syndrome. As per the guidelines all these patients are advised to undergo emergency angioplasty and as per the guidelines, today are subjected to triple anticoagulant therapy involving an anticoagulant aspirin and a P2Y12 inhibitor.
While the triple-drug therapy is effective in controlling the thrombotic events including the stent thrombosis, is associated with increased risk of bleeding much time turning into fatal outcomes.
AUGUSTUS Study recently presented at ACC highlighted that in AF patients with ACS undergoing PCI, aspirin increases the bleeding risk without reducing ischemic events, Furthermore the use of novel anticoagulants (NOACS, Apixaban) instead of vitamin K antagonist can reduce the risk of bleeding and hospitalization.
Augustus was a double-blind randomized trial involving 4,614 patients. While Augustus was at one time was the largest in size and also included patients of ACS treated medically also. Aspirin as a component in triple therapy has been in this favor since the WOEST trial. But that was much smaller.
Renato Lopes presented this trial at ACC 2019 and said that NOACs such as apixaban has a better safety profile with and is mostly enough for most of the patients providing safest regimen. In combination dropping aspirin and adding NOACs seems to have a synergistic effect on lowering bleeding and with these trials, we can actually find out that the beneficial effect is coming from only anticoagulants and P2Y12 inhibitors. Dr. Sameer Mehta has commented that there is a message to move away from vitamin K antagonist but doubted about the reassuring evidence or early discontinuation of aspirin. He said that the highest risk period for coronary ischemic events like stent thrombosis is in days and weeks after the attack. This particular time should be specially looked into the issue of withdrawal of aspirin.
Dr. Prem Aggarwal is a renowned cardiologist and founder of Medical Dialogues.