Investigational drug as effective as CAR T cell therapy in Lymphoma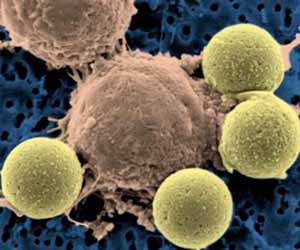 Delhi: A new investigational immunotherapy Mosunetuzumab is as effective as the complex cell therapy -- CAR T therapy -- to achieve remission in patients with B-cell non-Hodgkin lymphoma (NHL) that have become resistant to multiple therapies.
Mosunetuzumab (Genentech/Roche) is a full-length, fully humanized immunoglobulin G1 (IgG1) bispecific antibody targeting both CD3 (on the surface of T cells) and CD20 (on the surface of B cells). It works by redirecting T cells to engage and eliminate malignant B cells. This monoclonal antibody engages T cells and directs their cytotoxicity against B cells. It is an antibody that uses the patient's T cells to perform what is done by a CAR T cell.
In CAR T therapy a patient's T cells (a type of immune system cell) are changed in the laboratory so they will attack cancer cells. T cells are taken from a patient's blood.
Non-Hodgkin's lymphoma is cancer that originates in the lymphatic system, the disease-fighting network spread throughout the body. In this type of cancer, tumors develop from lymphocytes — a type of white blood cell. Non-Hodgkin's lymphoma can begin in the: 1) B cells or 2) T cells. There is a need for improved treatments for relapsed or refractory (R/R) NHL patients. Options are particularly limited for patients with B-cell NHLs who are R/R to CAR-T therapies or for whom a delay in effective therapy precludes this approach.
Stephen J Schuster, University of Pennsylvania, Philadelphia, PA, and colleagues presented the findings at the 61st American Society of Hematology Annual Meeting and Exposition in Orlando (Abstract #6).
GO29781 is an open-label, multicenter, Phase I/Ib, dose-escalation and expansion study of M in R/R B-cell NHL. Data is presented from Group B, in which M is administered with step-up dosing on Days 1, 8, and 15 of Cycle 1, and then as a fixed-dose on Day 1 of each subsequent 21-day cycle (maximum 17 cycles). Outcome measures include the best objective response rate (ORR) by revised International Working Group criteria, maximum tolerated dose (MTD), and tolerability.
Read Also: FDA approves novel antibody-drug conjugate for common non-Hodgkin lymphoma
Key findings of the study include:


As of June 4, 2019, 218 pts in Group B had received any amount of M. Indolent NHL (iNHL) pts (n=72) were mainly follicular lymphoma (FL, n=69).


Aggressive NHL (aNHL) pts (n=141) were mainly diffuse large B-cell lymphoma (DLBCL, n=87) or transformed FL (trFL, n=29). Median prior systemic therapies was 3 (range: 1–14).


Twenty-three pts had prior CAR-T therapy (12 DLBCL, 6 trFL, 5 FL), and 16 were efficacy evaluable (7 DLBCL, 5 trFL, 4 FL).


ORR and complete remissions (CR) rates were 43.8% (7/16) and 25.0% (4/16, 2 DLBCL and 2 FL), respectively.


Expansion of previously administered CAR-Ts after M administration was detected by quantitative PCR, in line with the mechanism of action of M.


Read Also: New treatment for rare types of non-Hodgkin lymphomas approved
"There is still a large need for new treatments in relapsed or refractory cases since some patients fail CAR T and others are too sick to wait for cell manufacturing," Schuster said. "One of the benefits of this treatment is that it's 'off-the-shelf,' meaning it does not need to be manufactured for each patient." Mosunetuzumab is an antibody designed to bind to two specific receptors on tumors cells. Just as CAR T therapies in lymphoma target a receptor called CD19, mosunetuzumab binds to CD20 as well as a natural receptor on T cells, one type of immune cell. Patients receive the therapy infusion over several months.
Mosunetuzumab not only can kill cancer but also that it may help re-engage CAR T cells and boost the effect of the prior CAR treatment," Schuster said. He notes the further study is needed to confirm this and to determine when in the course of treatment mosunetuzumab may be most effective. Cytokine-release syndrome (CRS), atoxicity known to be associated with cellular therapies, was reported in 29 percent of patients in this study. Only three percent required treatment with tocilizumab. Four percent of patients also reported moderately severe neurologic side effects.
Schuster said that while these findings are encouraging, they need to be confirmed by larger, randomized trials. He also notes that longer follow-up of patients on the current trial will ultimately provide more information on the durability of responses.
The study was presented at the American Society of Hematology (ASH) 2019 Annual Meeting on December 8, 2019.
Source : American Society of Hematology 2019 Annual Meeting