................................ Advertisement ................................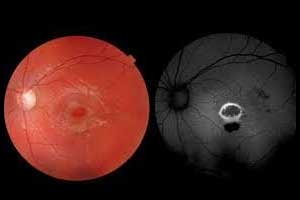 A Mount Sinai-led research study has found that intravitreal injections of corticosteroids are more effective than periocular injections for Uveitic Macular EdemaUveitic macular oedema is one of the leading causes of blindness in the United States and the new approach can help to improve vision in patients with the disease.
Uveitic macular oedema is not always effectively treated with oral corticosteroids even when they control the inflammation, so macular oedema often requires additional therapy in the form of regional corticosteroid injections, either by a periocular or intravitreal route.
"The results of this study suggest that we should be shifting away from periocular injections and towards intravitreal injections of corticosteroids for uveitic macular edema, which should improve the management of patients with uveitis," said Douglas A. Jabs, MD, MBA, Director of the Eye and Vision Research Institute at the New York Eye and Ear Infirmary of Mount Sinai; Professor of Ophthalmology and Medicine at the Icahn School of Medicine at Mount Sinai; and the study chair.
................................ Advertisement ................................
Macular edema is the swelling of the macula due to leakage from inflamed blood vessels and  it can lead to decreased vision.  It is also the leading cause of visual impairment in patients with uveitis but can be reversed if it responds to treatment.  Uveitis is a collection of more than 30 diseases characterized by inflammation inside the eye which damages the ocular tissues. It is the fifth leading cause of blindness in the United States, affecting all ages, and requires appropriate treatment to prevent vision loss.
................................ Advertisement ................................
Dr. Jabs chaired an international team of researchers as they compared and examined the effectiveness of three treatment corticosteroid approaches for patients with uveitic macular edema: regional therapy with periocular triamcinolone injections, intravitreal triamcinolone injections, and intravitreal dexamethasone implants (these slowly release medication over a period of several months).  The trial, known as PeriOcular versus INTravitreal corticosteroids for uveitic macular edema (POINT), was conducted at 23 centers across the United States, along with sites in Canada, Australia, and the United Kingdom.  It followed patients for six months after the initial injection for uveitic macular edema to evaluate the injections' comparative efficacy and safety.  Patients in the trial were randomly assigned to receive either an injection of periocular triamcinolone or intravitreal triamcinolone or the intravitreal dexamethasone implant. Researchers found both intravitreal treatments were superior to the periocular treatment for reducing macular edema and improving visual acuity. The intravitreal injection and dexamethasone implant was shown to have similar efficacy and safety profiles.
"Although all three treatments were effective in reducing macular edema and improving visual acuity, our data shows superior efficacy for intravitreal triamcinolone and intravitreal dexamethasone which suggests that the initial regional therapy of uveitic macular edema should be through the intravitreal route," explained Dr. Jabs.
The National Eye Institute (NEI), which is part of the National Institutes of Health, funded the POINT trial
Hina Zahid Joined Medical Dialogue in 2017 with a passion to work as a Reporter. She coordinates with various national and international journals and association and covers all the stories related to Medical guidelines, Medical Journals, rare medical surgeries as well as all the updates in the medical field. Email: hina@medicaldialogues.in. Contact no. 011-43720751
To know about our editorial team click here
................................ Advertisement ................................