Intravitreal injection of ocriplasmin resolves vitreomacular traction, improves vision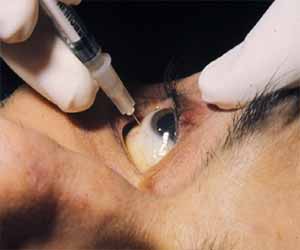 France: Intravitreal injection of ocriplasmin effectively resolved vitreomacular traction (VMT) in nearly 50% of the patients (with or without macular hole) by day 28, according to results from phase 4 multicenter study published in the journal Retina.
VMT is a vision-threatening eye condition that involves the vitreous - the clear gel that fills the inside of the eyeball. Symptoms include blurry vision, distorted and blacked-out central vision. Patients with VMT experience difficulty in performing daily tasks that require sharp vision such as watching TV or reading. It can lead to a macular hole (MH) which can distort and blur the central vision. In most cases, MH requires surgical intervention to reduce the risk of permanent vision loss.
Ocriplasmin is a recombinant truncated form of human plasmin having proteolytic activity against protein components of the vitreoretinal interface (e.g., laminin, fibronectin, collagen, and others), thereby dissolving the protein matrix mediating vitreomacular adhesion (VMA).
Ramin Tadayoni, Université Paris 7, Paris, France, and colleagues evaluated the anatomical and functional outcomes with ocriplasmin in patients with vitreomacular traction with or without the macular hole in the OVIID-1 study.
The study included 466 VMT patients with focal adhesion, without epiretinal membrane and with macular hole of 400 µm or less if present. The patients received a single intravitreal injection of Jetrea (ocriplasmin, ThromboGenics). The researchers then evaluated the nonsurgical resolution of VMT by day 28, best-corrected visual acuity, hole closure, vitrectomy rate, and safety through 180 days.
Key findings of the study include:


By day 28, 47.4% had VMT resolution by Day 28; resolution rates in patients with VMT without MH, VMT with MH ≤250 µm, and VMT with MH >250 to ≤400 µm were 43.4%, 68.6%, and 62.7%, respectively. The overall resolution rate by day 180 was 49.4%.



Macular hole

closure was higher in eyes with VMT and MH ≤250 µm (57.1%) than in eyes with VMT and MH >250 to ≤400 µm (27.5%) at Day 28.


30.8% of patients with VMT resolution gained ≥10 letters in

best-corrected visual acuity

at Day 180.


Adverse events were consistent with the known safety profile of

ocriplasmin

.


"Vitreomacular traction resolution and nonsurgical MH closure with ocriplasmin were associated with improvements in best-corrected visual acuity (BCVA) at the end of the 6-month follow-up period in patients with focal VMA ≤1,500 µm and absence of ERM at baseline, including when associated with MHs ≤400 µm. The safety findings were consistent with pivotal studies and other randomized clinical trials, which are well characterized for ocriplasmin," wrote the authors.
To sum up the findings, ocriplasmin is effective for the resolution of VMT without or with MH (≤400 μm); treatment outcomes can be optimized with patient selection.
The study, " Assessment of Anatomical and Functional Outcomes With Ocriplasmin Treatment in Patients With Vitreomacular Traction With or Without Macular Holes: Results of OVID-1 Trial," is published in the journal Retina.
For more details click on the link: DOI: 10.1097/IAE.0000000000002332
Source : Retina journal