................................ Advertisement ................................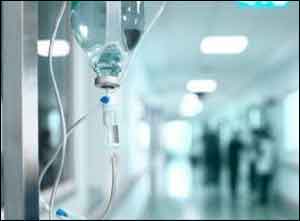 Intravenous fluid therapy is one of the most common interventions in acutely ill patients. Each day, over 20% of patients in intensive care units (ICUs) receive intravenous fluid resuscitation, and more than 30% receive fluid resuscitation during their first day in the ICU.
Virtually all hospitalized patients receive intravenous fluid to maintain hydration and as diluents for drug administration. Until recently, the amount and type of fluids administered were based on a theory described over 100 years ago, much of which is inconsistent with current physiological data and emerging knowledge. Despite their widespread use, various fluids for intravenous administration have entered clinical practice without a robust evaluation of their safety and efficacy.
Simon Finfer, The George Institute for Global Health, University of New South Wales, Sydney, Australia, and colleagues the review of intravenous fluid therapy administration in critically ill adults.
................................ Advertisement ................................
High-quality, investigator-initiated studies have revealed that some of these fluids have unacceptable toxicity; as a result, several have been withdrawn from the market. The belief that dehydration and hypovolaemia can cause or worsen kidney and other vital organ injury has resulted in liberal approaches to fluid therapy and the view that fluid overload and tissue edema are 'normal' during critical illness; this is quite possibly harming patients. Increasing evidence indicates that restrictive fluid strategies might improve outcomes.
................................ Advertisement ................................
"Despite the administration of intravenous fluids to critically ill patients being a near-universal intervention, the available evidence base guiding their safe and appropriate use is scarce and derived mainly from academically driven, investigator-initiated trials," conclude the authors.
"These trials have proved that hydroxyethyl starch (HES), the most frequently administered colloid solution, has an unacceptable safety profile and offers no benefits other than a clinically unimportant volume-sparing effect" They further add that "several unresolved questions remain, including whether buffered solutions are definitely better than normal saline and whether critical care clinicians should adopt a restrictive approach to fluid administration, either in general or in selected subgroups of patients. Finally, whether fluid resuscitation approaches should be different in resource-poor settings  remains to be addressed."
For further information follow the link: https://doi.org/10.1038/s41581-018-0044-0
Medha Baranwal joined Medical Dialogues as an Editor in 2018 for Speciality Medical Dialogues. She covers several medical specialties including Cardiac Sciences, Dentistry, Diabetes and Endo, Diagnostics, ENT, Gastroenterology, Neurosciences, and Radiology. She has completed her Bachelors in Biomedical Sciences from DU and then pursued Masters in Biotechnology from Amity University. She has a working experience of 5 years in the field of medical research writing, scientific writing, content writing, and content management. She can be contacted at medha@medicaldialogues.in. Contact no. 011-43720751
To know about our editorial team click here
................................ Advertisement ................................