Limit food consumption to 10-hour window to reduce weight,CVD risk: Study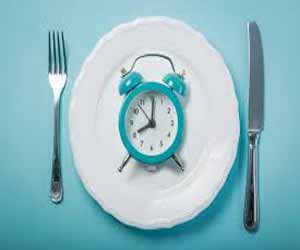 USA: Weight loss is a key to get rid of metabolic syndrome (MetS) -- a cluster of health conditions that occur together increasing the risk for type 2 diabetes (T2D) and cardiovascular disease (CVD). Now, a recent study published in the journal Cell Metabolism seems to have found a way to promote weight loss and improve cardiometabolic abnormalities in people with metabolic syndrome -- intermittent fasting. The fasting involves limiting food consumption to a 10-hour window each day.
According to the study, 10 h time-restricted eating (TRE) in MetS lowers blood pressure, atherogenic lipids, and glycated haemoglobin. Benefits of TRE, however, are "add-ons" to statin and antihypertensive medications, the researchers add.
In previous studies, time-restricted feeding (TRF) prevented metabolic diseases in animal models. TRE in human pilot studies reduced risk of metabolic syndrome in otherwise healthy people. However, patients with diagnosed MetS often undergo pharmacotherapy. Whether TRE can act synergistically with pharmacotherapy in animal models or humans has never been tested.
The study by Satchidananda Panda, Salk Institute for Biological Sciences, La Jolla, CA, USA, and colleagues, involved 19 women with metabolic syndrome and a baseline mean daily eating window of ≥14 h, the majority of whom were on a statin and/or antihypertensive therapy, underwent 10 h of TRE (all dietary intake within a consistent self-selected 10 h window) for 12 weeks. They were not told to reduce their caloric intake or change their diet in any way during the 10-hour time-restricted eating window. Most of the women were obese, with an average body mass index (BMI) of 33 kg/m2.
"Participants used a validated app — myCircadianClock (mCC) — to log their caloric intake during the 2-week baseline and 12-week intervention periods," they explain.
Read Also: Intermittent fasting prolongs life in cardiac catheterization patients
Key findings of the study include:


Over the 12 weeks of the study, participants lost 3.3 kg, or approximately 3% of their body weight, relative to baseline. This change led to an approximately 3% reduction in BMI, as well as about a 3% reduction in body fat, including a significant 3% reduction in visceral fat and a 4% reduction in waist circumference.


The number of weight participants lost during the study was comparable to that achieved by restricting calories and increasing exercise.


The time-restricted eating strategy also had a number of favourable effects on cardiometabolic parameters. For example, there were significant reductions in total cholesterol, low-density lipoprotein (LDL) cholesterol, and non-high density lipoprotein (non-HDL) cholesterol, none of which were attributable to weight loss.


There were also significant reductions in systolic and diastolic blood pressure, and among those with elevated fasting glucose levels at baseline, there was a significant reduction in A1c.


These improvements in cardiometabolic parameters were observed independent of any change in physical activity and were again independent of weight loss.


Read Also: Low-carbohydrate diet improves metabolic syndrome regardless of weight loss
Participants also told investigators that they found the intermittent fasting plan easier to adhere to than counting calories or trying to increase physical activity.
In fact, over one-quarter of the group chose to follow the time-restricted eating strategy after completing the 12-week intervention; about one third reported they followed the strategy at least part of the time. The remainder abandoned the plan at study end.
"TRE led to weight loss, healthier body composition (including decreased waist circumference), lower blood pressure and levels of cardiovascular disease-promoting lipids (i.e., "bad cholesterol" levels), and more restful sleep. TRE could be an effective dietary intervention to help those with metabolic syndrome," concluded the authors.
The study, "Ten-Hour Time-Restricted Eating Reduces Weight, Blood Pressure, and Atherogenic Lipids in Patients with Metabolic Syndrome," is published in the journal Cell Metabolism.