Insulin patch a new effective option for managing blood sugar and diabetes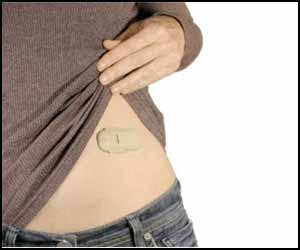 Insulin patch is a new effective option for managing blood sugar and diabetes, finds a new study.
Insulin with a wearable patch is equally effective as a standard insulin pen for improving blood sugar and HbA1c in adults with type 2 diabetes (T2D), according to a recent study published in the journal Diabetes Technology & Therapeutics.
The use of oral drugs for keeping blood sugar within limits has better compliance than injection insulin. Insulin use for controlling blood sugar is often presented with some patient barriers including fear of injections, interference with daily activities, reduced quality of life, fear of injections, and increased cost.
"The patch can contribute to safely achieving glycemic control for people initiating basal-bolus insulin therapy. It can potentially reduce patient and provider resistance to initiating mealtime insulin therapy and improve patient adherence and persistence, resulting in improved glycemic control over time," write the authors.
The above-mentioned barriers may be addressed by some technological advances to simplify insulin delivery. In recent years, a number of wearable devices have been designed and developed to deliver basal and/or mealtime insulin. One such device is the insulin patch or simply "patch", a simplified on-demand subcutaneous delivery device for mealtime insulin that, unlike conventional pumps, is entirely mechanical and not managed by external controllers. Unlike insulin pens, the patch does not require observation of an injection.
Richard M. Bergenstal, International Diabetes Center, Park Nicollet, Minneapolis, and colleagues compared the efficacy and safety of the patch with that of a standard insulin pen for initiating and managing mealtime analog insulin in people with type 2 diabetes not yet achieving the glycemic goal with basal insulin with/without other antihyperglycemic agents.
The randomized controlled trial involved 278 adults with type 2 diabetes (mean age, 59.2 years; 40% women) from 62 clinical centers. They were randomly assigned to use an insulin patch (PAQ-MEAL, CeQur) or an insulin pen for 44 weeks before switching treatment methods for the final 4 weeks to compare their experience with the two device types.
During the study, participants used the patch or pen to deliver insulin before a meal. They also recorded self-monitored blood sugar levels and used this information along with an insulin adjustment algorithm to increase or decrease dosage as needed. Adverse events were also self-reported.
Also Read: Toward a smart patch that automatically delivers insulin when needed
Key findings of the study include:


Compared with baseline measures, at the halfway point (24 weeks), participants using the patch had a similar reduction in HbA1c (–1.7%) as the participants using the pen (–1.6%), and these measures were maintained at 44 weeks as well.


A similar number of those who used the patch decreased their HbA1c level below 7% (65%) compared with those who used a pen (63%) at 44 weeks.


There were no differences in adverse events, including hypoglycemia (three severe episodes per arm), and changes in weight and insulin doses.


Subject-reported treatment satisfaction, quality of life, experience ratings at week 24, and device preferences at week 48 significantly favoured the patch.


There was no significant difference in adherence rates for those who used the patch and those who used the pen at 24 weeks (79% vs. 78%, respectively) and 44 weeks (81% vs. 81%).


90% of health care providers preferred patch for mealtime insulin.


Also Read: An automated insulin delivery system for younger pediatric patients also
"This study demonstrated clinically significant improvements in glycemic control after the addition of mealtime insulin to a basal insulin regimen using either the patch or an insulin pen," wrote the authors.
For detailed study follow the link:
https://doi.org/10.1089/dia.2018.0298
Source : With inputs from Diabetes Technology�&�Therapeutics