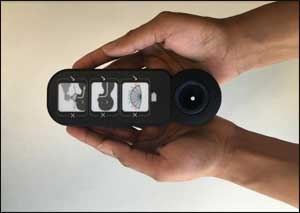 Royal Philips, a global leader in health technology, announced the successful development of the 'Augmented Infant Resuscitator (AIR)' an add-on device for conventional neonatal bag-valve-mask (BVM) resuscitator that helps caregivers to effectively resuscitate asphyxiated newborn babies.
Developed in collaboration with the Consortium for Affordable Medical Technologies (CAMTech) Augmented Infant Resuscitator aims to reduce neonatal mortality, especially in parts of the world that are underserved in terms of healthcare. It is expected to be available in limited volume in selected markets prior to scaling up availability in low- and middle-income countries. Effective resuscitation could reduce birth asphyxia-related neonatal deaths by 30 percent and deaths from prematurity by 10 percent.
Read Also: Structural and functional MRI in children resuscitated after drowning pinpoints site of anoxic brain injury
"At Philips, we aim to improve people's health through meaningful innovations," said Arman Voskerchyan, Business Leader for Therapeutic Care at Philips. "Our mission is to improve the lives of three billion people a year by 2025. By combining our expertise in respiratory care and resuscitation with the strengths of global health innovators like the AIR team at CAMTech, we aim to drive and scale innovative solutions that bridge societal divides in healthcare to reach underserved populations.
The AIR device is an innovative add-on that is compatible with virtually all existing manual bag-valve-mask resuscitators. It has the potential to significantly improve the initial training and ongoing practice of bag-valve-mask resuscitation skills. The device measures ventilation flow and pressure to monitor the quality of ventilation, and provides intuitive visual feedback on common ventilation errors, including inadequate face-mask seal, obstructed the airway, incorrect ventilation rate, and harsh breaths that can damage the baby's airways. Anyone of these mistakes may result in death or permanent neurological injury. The AIR also records performance for future feedback, improving the training of healthcare professionals by identifying persistent gaps in technique.
Birth asphyxia is a medical condition caused by the prolonged deprivation of oxygen to a newborn during the birth process, resulting in damage to vital organs, usually the baby's brain. Globally, birth asphyxia causes more than 800,000 neonatal deaths annually, and over one million potentially preventable reported stillbirths.