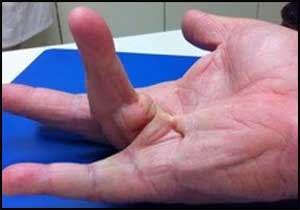 There is no approved therapy at present for the early-stage Dupuytren's disease but according to a new study done by researchers of Oxford University adalimumab may be a new hope to arrest disease before complications of hand contracture set in. Injection of the anti-TNF drug adalimumab into Dupuytren's disease nodules results in the reduction of the cell characteristics responsible for the progression of Dupuytren's disease. The study was published in the journal EBioMedicine.
Dupuytren's disease is a common fibrotic condition of the hand that causes irreversible flexion contractures of the fingers. There is no approved therapy for the early-stage disease and people are told to return to their GP once their fingers become so bent that their hand function is impaired.
Jagdeep Nanchahal and his associates conducted a study to assess the efficacy of injecting nodules of Dupuytren's disease with a TNF inhibitor.
28 patients were randomized to receive adalimumab on one occasion in dose cohorts of 15 mg in 0.3 ml, 35 mg in 0.7 ml, or 40 mg in 0.4 ml, or an equivalent volume of placebo in a 3:1 ratio. Two weeks later the injected tissue was surgically excised and analyzed. The primary outcome measure was levels of mRNA expression for α-smooth muscle actin (ACTA2). Secondary outcomes included levels of α-SMA and collagen proteins.
The study found that adalimumab (at a dose of 40mg formulated in 0.4ml) reduces expression of the fibrotic markers, smooth muscle actin (-SMA) and type I procollagen, at 2 weeks post-injection, suggesting this drug could be used to stop the growth of disease-causing myofibroblast cells. They also found the drug to be safe and well tolerated.
"Our data have shown that a concentrated formulation of adalimumab injected directly into the diseased tissue may be effective in targeting the cells responsible for Dupuytren's disease," said Jagdeep Nanchahal.
"This brings new hope to people who suffer from this disabling condition, who currently have to wait for their situation to deteriorate, watching their hand lose function until it is bad enough for surgery. And then there's the lengthy recovery ahead, a less than ideal situation to find yourself in," he added.
The anti-TNF drug adalimumab (Humira) is currently licensed in the EU for the treatment of a number of conditions including rheumatoid arthritis, Crohn's disease and ulcerative colitis and overall has an excellent safety profile.
The research is still in progress to investigate the use of this drug to treat Dupuytren's disease in a phase 2b trial called the RIDD trial, which is currently running in Oxford and Edinburgh.
For more reference log on to https://doi.org/10.1016/j.ebiom.2018.06.022