................................ Advertisement ................................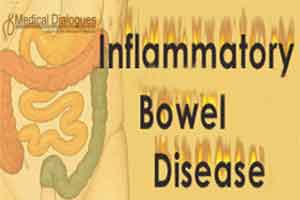 Inflammatory bowel disease (IBD) represents a group of idiopathic chronic inflammatory intestinal conditions. The two main disease categories included are Crohn's disease (CD) and ulcerative colitis (UC), with both overlapping and distinct clinical and pathological features. In addition the spectrum also comprises two categories ; IBD unclassified and indeterminate colitis. The pathogenesis of IBD is still under investigation. The most simplified view is that intestinal injury results due to aberrant immune response to commensal bacteria in a background of genetic predisposition.
Ministry of Health and Family Welfare has come out with the Standard Treatment Guidelines for Inflammatory bowel disease. Following are its major recommendations.
Case definition:
Ulcerative colitis: Ulcerative colitis is a chronic disorder of unknown etiology in which a part or the whole of the mucosa of the colon becomes diffusely inflamed and ulcerated. Rectum is involved in a vast majority of the cases.
Crohn's Disease: A chronic granulomatous disease which can affect any part of GI tract in a discontinuous, asymmetric manner. Unlike Ulcerative colitis which is a mucosal disease, Crohn's disease is a transmural disease.
IBD unclassified: Categorization is not possible after clinical, radiological, endoscopic and histological features
Indeterminate colitis: Categorization is not possible even after evaluation of resected specimen.
Incidence of The Condition In Our Country
The epidemiological studies from this region are being made available it is clear that the incidence and prevalence rates of IBD in Asia–Pacific region are low compared with Europe and North America. They are however, increasing rapidly.
................................ Advertisement ................................
There are substantial variations in the incidence and prevalence rates of IBD in various ethnic groups in Asia. The highest incidence rates are recorded from India, Japan and the Middle East and there exists a genetic predisposition of South Asians (Indians, Pakistanis and Bangladeshis) to ulcerative colitis (UC). In a study done in 2001 from Ludhiana in Punjab, the crude prevalence rate was 44.3/105 . The incidence was calculated after a second visit to the same area one year later. The crude incidence rate was 6.02/105 . The incidence rate of UC in India is higher than in Asian countries like Japan (1.95/105 ) and Korea (1.23/105 ). There is no population-based study on Crohn's disease (CD) in India, however, the accepted perception is that the incidence of CD is rapidly rising in India. The peak age of incidence of CD is the third decade of life, with a decreasing incidence rate with age. The incidence rate in UC is quite stable between the third and seventh decades.
Differential Diagnosis
The main differential diagnosis of Ulcerative colitis and Crohn's disease are :
................................ Advertisement ................................
| | |
| --- | --- |
| Ulcerative colitis | Crohn's disease |
| Acute self limiting colitis | Intestinal Tuberculosis |
| Amoebic colitis | Acute self limiting colitis |
| Crohn's Disease | Amoebic colitis |
| HIV enteropathy | Ulcerative colitis |
| | Behcet's disease |
| | NSAID enteropathy |
| | HIV enteropathy |
Prevention And Counselling
IBD is an autoimmune disease, and environmental factors which can trigger an episode have not been identified, hence primary prevention strategy is not possible. There is a family history in 5% of IBD patients.
Optimal Diagnostic Criteria, Investigation, Treatment & Referral Criteria
*Situation 1: At Secondary Hospital/ Non-Metro situation: Optimal Standards of Treatment in Situations where technology and resources are limited
There is no gold standard test available to make a diagnosis of IBD. A diagnosis of ulcerative colitis or Crohn's disease is made on the basis of compatible clinical history, examination, imaging, endoscopy and histology findings.
Clinical Diagnosis:
History
The most important features are the chronic duration of symptoms and the frequent remissions and relapses which characterize IBD and help in distinguishing from other infectious diseases affecting the large and small bowel.
Ulcerative colitis
1. Diarrhea : Large bowel diarrhea which is daytime or nocturnal
2. LGI bleed : Blood may be mixed with stool and at times separate from the stools
3. Rectal symptoms: tenesmus, urgency , frequency of stools
4. Abdominal pain and fever in case of severe disease
5. Symptoms are limited to large bowel
Crohn's disease(CD)
Symptoms depend upon the site of involvement. In CD , any part of bowel from esophagus to anal canal may be involved .
Small Intestinal involvement / Ileocolonic involvement :
1. Abdominal Pain
2. Symptoms suggestive of recurrent partial intestinal obstruction may be present
3. Chronic diarrhea
4. Fever, anorexia, weight loss
Large bowel involvement :
1. Chronic diarrhea
2. Hematochezia
3. Peri anal disease
4. Fever, weight loss
5. Abdominal pain
Upper GI involvement
1. Dysphagia, odynophagia
2. Epigastric pain
3. Symptoms suggestive of gastric outlet obstruction
Extraintestinal manifestations (EIM) : Arthritis is the most common EIM and is observed in 15-20% of cases. Other extraintestinal complications include ankylosing spondylitis, pyodermagangrenosum, erythema nodosum, iritis, uveitis, episcleritis, and primary sclerosing cholangitis.
Complications include :
1. Hemorrhage: profuse bleeding from ulcers in UC. Bleeding is less common in CD. Massive bleeding in CD is more often seen from ileal ulceration than colitis.
2. Strictures, bowel perforation and Intra-abdominal abscesses in CD.
3. Fistulas and perianal disease in CD
4. Colorectal cancer: Significantly increased risk of colon cancer in UC after 8 years of diagnosis; the risk is lower in CD as compared to UC.
Investigations:
Primary and secondary care settings :
Stool for ova and cysts
Haemogram and Serum albumin
Sigmoidoscopy (if available)
Barium enema for ulcerative colitis
In India, at present, a suspected case of Crohn's disease should always be referred to a tertiary care hospital before initiating therapy. This is so as to rule out intestinal tuberculosis which closely mimics Crohn's disease.
Referral Hospitals:
Stool examination:
i ) Parasites
ii)Clostridium difficile(should be considered even in absence of antecedent antibiotics).
Blood tests :
i) Haemoglobin, ESR , serum albumin , Human immunodeficiency virus (HIV)
ii) Perinuclear antineutrophil cytoplasmic antibody (p-ANCA) and antiSaccharomyces cerevisiae antibodies (ASCA): need not be done
iii) Celiac serology
Monteux skin test
Chest X ray
Sigmoidoscopy / Colonoscopy An endoscopic examination is necessary
a) to establish the diagnosis
b) to assess severity of disease
c) to take targeted mucosal biopsies . In cases with severe activity, a full length colonoscopy is not indicated as there is a high risk of perforation.
Ulcerative colitis:
An ileocolonoscopy is indicated to establish the extent of disease
Crohn's Disease: Endoscopic procedures required include : 1) ileocolonoscopy 2) UGI endoscopy ( especially in pediatric cases) 3)Capsule endoscopy/ double balloon enteroscopy if small bowel involvement suspected.
Multiple mucosal biopsies should be taken from inflamed areas. Features suggestive of ulcerative colitis include crypt architectural  destruction, crypt abscesses, goblet cell depletion, paneth cell metaplasia, basal plasmocytosis. In Crohn's disease non caseating   granulomas may be seen in 30% of cases
 Abdominal X ray: In severe UC or CD where perforation or toxic mega colon is suspected. In CD, if intestinal obstruction is suspected.
Contrast enhanced computed tomography ( Enteroclysis/Enterography) : In cases with CD i) to evaluate small intestinal involvement ii) to differentiate from intestinal tuberculosis
Barium meal follow through: If facilities for CT (enteroclysis) are not present.
These investigations not only help in diagnosing the disease but also help in determining the extent and severity of the disease . The tables below show the classification for extent and severity of UC and CD.
Table 1: Disease extent in Ulcerative colitis:
Extent 
Disease 
Description
E1
Ulcerative proctitis
Involvement limited to rectum
E2
Left sided

UC (distal colitis)

Involvement distal to the splenic flexure
E3
Extensive

UC (Pancolitis)

Involvement extends proximal to the splenic flexure
Table 2: Disease activity in Crohn's Disease (ACG classification)
Mild ( corresponds to CDAI < 150)
Moderate ( corresponds to CDAI 150-220)
Severe ( corresponds to CDAI 150>450)
Ambulatory, eating

<10% weight loss

No features of

Dehydration

Obstruction, fever,

Abdominal mass or

Tenderness

CRP > upper limit

Intermittent voming,

Abdominal pain, > 10%

Weight loss

No feature of

Dehydration

Obstruction, fever,

Abdominal mass or

Tenderness

CRP > upper limit

BMI < 18, cachexia,

Dehydration

Evidence of

Obstruction or

Abscess

Persistent symtoms

Despite intensive Rx
Table 3  : Montreal Classification of Crohn's disease phenotype
Age
A1 : < 16 years

A2 : 17-40 years

A3 : > 40 years

Location
L1 : Ileal

L2 : Colonic

L3 : Isolated upper GI disease*

Behaviour
B1 : Non structuring non penetrating disease

B2 : Structuring disease

B3 : Penetrating disease

P : perianal disease modifier #
In addition , these investigations also help in 1) differentiating Ulcerative colitis from Crohn's disease 2) Intestinal tuberculosis from Crohn's disease as shown in the tables below
Table 4 : Features for differentiating between ulcerative colitis (UC) and Crohn's disease (CD) (adapted from World Gastroenterology Organisation Global Guidelines June 2009)
Typical UC features
Typical UC features
Clinical
Frequent small-Volume diarrhea with urgency

Predominantly bloody diarrhea

Diarrhea accompanied by abdominal pain and malnutrition

Stomatitis

Abdominal mass

Perianal lesions

Endoscopic and radiological
Diffuse superficial colonic inflammation

Involvement of rectum, but this can be patchy

Shallow erosions and ulcers

Spontaneous bleeding

Discontinuous transmural asymmetric lesions

Mainly involving ileum and right sided colon

Cobblestone appearance

Longitudinal ulcer

Deep fissures

Histopathological
Diffuse inflammation in mucosa or submucosa

Crypt architecture distortion

Granulomatous inflammation

Fissures or aphthous ulcers can be seen: often transmural inflammation
IBD management should be based on:
UC vs. CD (although this is less important for early aspects of treatment)
Disease location and phenotype
Severity
The goals of treatment are to:
Maintain steroid-free remissions (decreasing the frequency and severity of recurrences and reliance on steroids)
Prevent complications hospitalization and surgery
Treatment include two phases
Induction of remission
Maintenance of remission
Ulcerative colitis :
Disease extent: Proctitis and Proctosigmoiditis
Proctitis : 5ASA suppositories ; Optimal dose : 1gm/day
Proctosigmoiditis : 5ASA enemas : 2-4 gm/
If no response within 4 week
Use of topical glucocorticoids
If still no response :
Use of hydrocortisone rectal drip: 200mg/200ml/1-2 hrs
Oral 5 ASA in a dose of 1600-2400 mg daily may be used with or without topical therapy
If disease extent is left sided colitis/pancolitis, then the treatment may be planned as in the table below:
A. For Induction of remission depending upon the severity of disease
Mild to Moderate:
Severe :
Fulminant :
SZA : 4-6 gm/day

5ASA : 4gm/day

Oral steroids
Hospitalization

IV steroids

Intensive Therapy

Surgery

No clinical response:

Perdnisolone :

40-60 mg/day

No response :

Hospitalization

IV steroids

Intensive Therapy

Steroid tapering :

Very gradual

Over 3-4 months
B. For maintenance of remission : Use of 5 ASA alone or 5ASA and azathioprine in patients
who require frequent steroids
Management guidelines in Crohn's Disease ( as in the table below)
Inflammatory CD

( B1 phenotype)

Mild to moderate
Induction regime

SSZ : left colon

Budesonide : ileocolon

Remission :

Azathioprine

Methotrexate

Moderate with systemic

Symptoms

Severe

Small bowel extensive disease

Induction regime

Prednisolone

IV Hydrocortisone

Remission :

Azathioprine

Methotrexate

Introduction of Infliximab
Corticosteroid dependent

Corticosteroid refractory

2 courses of steroids/year

Risk factors for Top Down rx group

Remission :

IFX +

Azathioprine

Not Methotrexate

Fistulizing Disease

(B3 phenotype)

Perianal : Simple vs complex
Antibiotics, azathioprine Infliximab , Surgery
Non perianal
Surgery
Stricturing Disease

(B2 phenotype)

Steroids/balloon dilatation/surgery/? Infliximab
Referral criteria:
Criteria for surgery referral :
Toxic megacolon
Perforation peritonitis
Severe bleed
Refractory to medical therapy
Stricturing Crohn's disease
Standard Operating procedure
a. In Patient : Patients with severe disease not responding to oral steroids
b. Out Patient : Patients with mild to moderate disease or patients in remission on follow up
c. Day Care : Any patient requiring infliximab maintenance infusion
WHO DOES WHAT? and TIMELINES
a. Doctor: Diagnose and strategise therapy
b. Nurse : Assist in administering drugs
c. Technician : Assist in endoscopy and imaging investigations
Guidelines by The Ministry of Health and Family Welfare :
developed by Dr Vineet Ahuja Deptt of Gastroenterology, All India Institute of Medical Sciences, New Delhi
Supriya Kashyap Joined Medical Dialogue as Reporter in 2015 . she covers all the medical specialty news in different medical categories. She also covers the Medical guidelines, Medical Journals, rare medical surgeries as well as all the updates in medical filed. She is a graduate from Delhi University. She can be contacted at supriya.kashyap@medicaldialogues.in Contact no. 011-43720751
................................ Advertisement ................................