Inferior vena cava filters linked to increased mortality in VTE patients: JAMA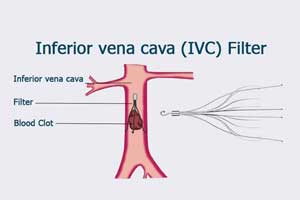 Patients with venous thromboembolic disease (VTE) and contraindication to anticoagulation who received inferior vena cava (IVC) filter have a significantly higher risk for 30-day mortality, according to a recently published study in the journal JAMA Network Open.
Tyson E. Turner, Division of Cardiology, Department of Medicine, Washington University School of Medicine in St Louis, St Louis, Missouri, and colleagues conducted the study to determine the association of IVC filter placement with 30-day mortality after adjustment for immortal time bias.
Venous thromboembolism (VTE), consisting of both deep vein thrombosis (DVT) and pulmonary embolism (PE) is a significant cause of mortality and morbidity worldwide. The treatment of VTE patients is based on anticoagulation, but in some patients, this therapy is contraindicated due to underlying coagulopathies or recent surgery.
In patients with VTE and a contraindication, IVC filter placement is recommended by many professional societies including the American Heart Association and British Committee for Standards in Haematology.
Read Also: Guidelines on Antithrombotic Therapy for VTE Disease 2016
This retrospective cohort, comparative effectiveness study used a population-based sample of hospitalized patients with VTE and a contraindication to anticoagulation using the State Inpatient Database and the State Emergency Department Database.
The authors studied outcomes of 126,030 patients hospitalized with VTE—deep vein thrombosis, pulmonary embolism or both—who had contraindications for anticoagulants. 61 281 (48.6%) were male and the mean (SD) age was 66.9 (16.6) years. In this cohort, 45 771 (36.3%) were treated with an IVC filter, whereas 80 259 (63.7%) did not receive a filter.
Key Findings:


The placement of IVC filter was associated with a significantly increased hazard ratio of 30-day mortality (1.18; 95% CI, 1.13-1.22).


When the propensity score was included in the Cox model, IVC filter placement remained associated with an increased hazard ratio of 30-day mortality (1.18; 95% CI, 1.13-1.22).


"Patients with a contraindication to anticoagulation who receive an IVC filter have an increased risk of death at 30 days after adjustment for baseline differences, comorbidities, immortal time bias, and propensity score compared with similar patients who did not receive an IVC filter. Randomized clinical trials are required to determine the efficacy of IVC filter placement in patients with VTE and a contraindication to anticoagulation," concluded the authors.
For more information follow the link:
10.1001/jamanetworkopen.2018.0452