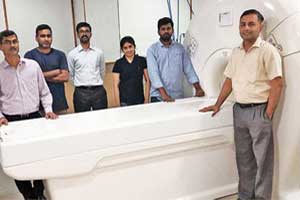 Here comes indigenous MRI Scanner which is portable and cost-effective courtesy, Indian scientists. New MRI is four times faster, compared to other scanners currently available in the market, consumes less power and being lightweight is easy to carry.

Tuning with the "Make in India" campaign, a team of Indian engineers led by 38-year-old electrical engineer Arjun Arunachalam has developed a new, fast, portable, 1.5 Tesla, whole-body magnetic resonance imaging (MRI) scanner that could be truck-mounted and thus provide on-site scans currently not available to millions across the country.
Arjun Arunachalam believes that his dream of building the compact and lightweight machine is moving closer to a realization after a decade of effort interrupted by periods of frustration, as his prototype scanner awaits human trials that will involve comparing images of the machine with those from standard MRI scanners. The prototype scanner is assembled in the Sri Sathya Sai Institute of Higher Medical Sciences, Bangalore.
Apart from being portable, that makes the device a mobile MRI scanner, its speed of generating images,  is three to four times faster than the fastest scanners in the market, while consuming less power.
Read Also: FDA approves first 7 Tesla MRI device
"When I first heard about it, I thought it was impossible," Bhavana Nagabhushana Reddy, a radiologist at the Sathya Sai Institute, told The Telegraph.
"We've always viewed MRI machines as stationary, not something that could be driven from one place to another."
Commercial MRI scanners generally take a week to be made functional after it has been fully turned off, whereas this portable machine has a two-hour switch-on feature which makes it easy to use.

"If it works, it would be a breakthrough," said Kunnummal Mohanan, professor of radiology at the MES Medical College in Kerala and president of the Indian Society of Radiology and Imaging, who has not yet seen the prototype.
In 2008, Arunachalam was a staff engineer at the General Electric Research Laboratory in Schenectady in New York, tasked with finding ways of accelerating image acquisition for MRI scans and examining alternative designs for scanner subsystems.
MRI scans, unlike computerized tomography (CT), scans that use X-rays for imaging, do pose any risk for radiation exposure as they rely on the interaction of magnetic fields with protons in the body. Magnetic resonance imaging scans are useful in imaging soft tissues, including moving organs such as the heart.
The present socially relevant innovation can significantly reduce the cost of a magnetic resonance imaging scan creating a  large scale sustainable social impact. This will also make magnetic resonance imaging accessible to all patients and expand the scope of diseases that MRI scans can diagnose.