Indian Scientist develops miracle vaccine for birth control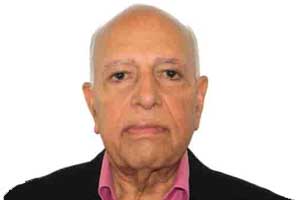 Vaccines for control of fertility are likely to have an important impact on family planning methods.A number of birth control vaccines are at different stages of development, the most advanced being a vaccine inducing antibodies against human chorionic gonadotrophin (hCG).
Dr G.P. Talwar, renowned professor and scientist and former director at National Institute of Immunology aged 91 has developed a miraculous vaccine which has now received approvals from Drug Controller General of India (DCGI) for Phase I clinical trial.It is the result of his hard work on a birth control vaccine for last 44 years.He had earlier developed the first leprosy vaccine in the world that was launched a few years back.
The Indian Council of Medical Research (ICMR) has designed a protocol for this vaccine to be tested on 120 women at All India Institute of Medical Sciences (AIIMS) and Sir Ganga Ram Hospital (SGRH) in New Delhi.
In the clinical trial, non-pregnant, but sexually active women, between 22 to 35 years, with two living children will be enrolled in the study according to protocol. In all 25 women will be enrolled at AIIMS and another 25 at SGRH. All the eligible candidates are being screened for recruitment in the Gynaecology departments at these hospitals and five doses — 100, 200, 300, 400 and 500 mg will be administered, respectively, to ten women.
"If it passes through the human phases of clinical trials, it will be the world's first birth control vaccine, which will temporarily protect women against pregnancy," Dr Talwar told DNA.
The contraceptives, at present have undesired side-effects like menstrual irregularity and breeding. The vaccine developed by Dr Talwar is claimed to overcome such undesirous side effects and is completely safe for the ovary.
Speaking to Deccan Chronicle, Prof. Talwar said, "People thought I have gone weird when I planned to work on the birth control vaccine. The general perception is that vaccines should be developed only for infectious disease. However, that did not deter me from carrying this project. The vaccine would not only prevent pregnancy for over a year but also improve the cancer resistance power."
The vaccine prevents secretion of Beta Human Chorionic Gonadotrophin (HCG) hormone, which is crucial for implantation of the fertilized embryo to the uterus. If we can prevent this hormone from circulation in female's blood, by generating antibodies through the vaccine, there will be no pregnancy," said a senior scientist at ICMR
This safe and effective contraceptive targets the human chorionic gonadotropin (hCG) hormone, which in turn produces hormone progesterone, which is necessary to prepare the uterus to receive the embryo. This vaccine blocks hCG and ensures termination of pregnancy," he added
The women will have a normal functioning sex life and menstrual cycle. She will have to take the vaccine once in close to three months for prevention of pregnancy, we pre-empt and she can simply discontinue it when she chooses to get pregnant," said the scientist.
The vaccine will overcome limitations of present-day contraceptives, which have undesired side-effects like menstrual irregularity and breeding. The vaccine would not harm the ovary anyway and if the vaccine successfully completes its clinical trial, it will be a new medical miracle by an Indian scientist.
For further reference log on to :
https://www.ncbi.nlm.nih.gov/pubmed/7683889