................................ Advertisement ................................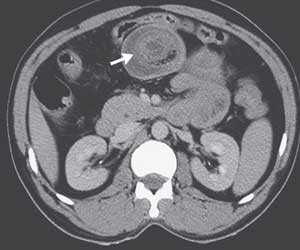 Dr Shreya Sengupta, at  R.G. Kar Medical College and Hospital, Kolkata, India and colleagues have reported a case of Peutz–Jeghers syndrome. The case has appeared in NEJM.
Peutz–Jeghers syndrome  (PJS) is an autosomal dominant genetic disorder characterized by the development of benign hamartomatous polyps in the gastrointestinal tract and hyperpigmented macules on the lips and oral mucosa (melanosis). It has an incidence of approximately 1 in 25,000 to 300,000 births. Patients with Peutz-Jeghers syndrome have an estimated 15-fold increased risk of developing intestinal cancer compared to the general population. 
This syndrome can be classed as one of the various hereditary intestinal polyposis syndromes and one of the various hamartomatous polyposis syndromes.
................................ Advertisement ................................
According to history, a 45-year-old man presented to the emergency department with sudden-onset abdominal pain and vomiting. On physical examination, his abdomen was diffusely tender, and he had hyperpigmented macules on the lips, oral mucosa, and nose (Panel A). His two sons had previously presented with abdominal pain due to intussusception and had undergone bowel resection. A computed tomographic scan of the patient's abdomen showed a target sign (Panel B, arrow), which is characteristic of intussusception.
................................ Advertisement ................................
His emergency laparotomy confirmed the presence of jejunojejunal intussusception with areas of necrosis. Multiple polyps were palpated throughout this section of the bowel. Because of the necrosis and concern about recurrence, the length of jejunum that contained polyps was resected (Panel C), and end-to-end anastomosis was performed. Histopathological evaluation of the resected segment revealed multiple hamartomatous polyps. On the basis of the mucocutaneous hyperpigmentation, multiple hamartomatous polyps in the gastrointestinal tract, and family history, a diagnosis of the Peutz–Jeghers syndrome was made. This autosomal dominant disorder is associated with an increased risk of gastrointestinal and extraintestinal cancers. The patient recovered well after the surgery and has undergone appropriate cancer-screening tests, which have been negative to date.
For Further reference log on to: DOI: 10.1056/NEJMicm1806623
Dr Kamal Kant Kohli-MBBS, DTCD- a chest specialist with more than 30 years of practice and a flair for writing clinical articles, Dr Kamal Kant Kohli joined Medical Dialogues as an Editor-in-Chief for the Speciality Medical Dialogues section. Besides writing articles, as an editor, he proofreads and verifies all the medical content published on Medical Dialogues including those coming from journals, studies,medical conferences,guidelines etc.
Before Joining Medical Dialogues, he has served at important positions in the medical industry in India including as the Hony. Secretary of the Delhi Medical Association as well as the chairman of Anti-Quackery Committee in Delhi and worked with other Medical Councils in India. Email: editorial@medicaldialogues.in. Contact no. 011-43720751
To know about our editorial team click here
................................ Advertisement ................................