Indian doctors report atypical and rare presentation of Dengue Fever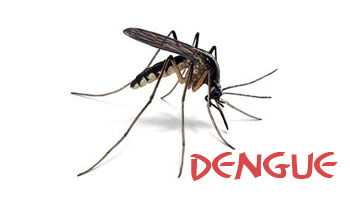 A rare case was reported in the Journal of the Association of Physicians of India which described dengue fever with an atypical and rare presentation i.e. posterior reversible encephalopathy syndrome.The case was reported by doctors of Calcutta National Medical College and Hospital, Kolkata, West Bengal.
Posterior Reversible Encephalopathy Syndrome (PRES) usually occurs in the setting of hypertensive emergencies, characterized by a bilateral increase in T2 signal intensity in the white matter on MRI usually concentrated in the posterior part of the hemispheres. Findings are of white matter edema which normalizes over several weeks.
The case highlighted a 68 years old non-diabetic and nonhypertensive woman presented with a history of continuous fever without chills for 5 days and altered sensorium since 2 days and one episode of generalized tonic-clonic convulsions 1 day before admission. There was no history of a headache, vomiting, antecedent exanthematous illness, vaccination, ear discharge, intake of drugs, no bleeding manifestations.
The general survey showed the patient had tachycardia (110/min), hypotension(80/60 mm Hg, high respiratory rate (34/min), elevated temperature (101.2°F), a puffy facies and poor GCS examination couldn't be done due to the poor general condition of the patient. Examination of the other systems was unremarkable.
Empirical treatment was started on the first day of admission with broad-spectrum antibiotics with antiviral and steroid, fluid and ionotropic support, and anticonvulsants. Meanwhile, the patient was not showing expected improvement in sensorium even after 5 days of the above treatment.
MRI findings showed Posterior Reversible Encephalopathy Syndrome (PRES). The patient was put on supportive treatment only and showed gradual improvement in the sensorium over the next 2 days. Vital signs and general condition also improved and the patient started to take food orally. Blood parameters and biochemistry gradually normalized. Blood Culture, IgM Leptospira reports came negative. ANA (by Hep2) was sent and came negative. A repeat MRI was done 2 weeks later and it showed complete resolution of the above findings.
"This case is important as never in the course of her disease our patient had accelerated hypertension and PRES occurring in the background of Dengue Shock syndrome is probably not reported elsewhere. It points to possible similar pathogenesis between the two; of endothelial dysfunction which invites further research," write the authors.
The authors concluded that out of the various manifestations of dengue fever posterior reversible encephalopathy syndrome can be an atypical and rare presentation.
For full information log on to http://www.japi.org/january_2019/23.html#
Source : With inputs from Journal of the Association of Physicians of India