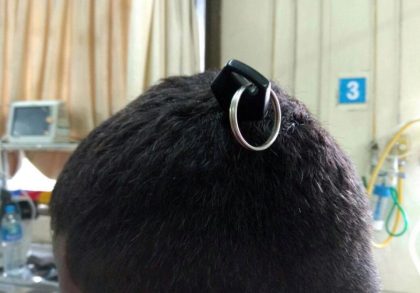 In a unique surgery, doctors of Anand Rishi Hospital, Maharashtra have successfully removed about 1.5 inches of a motorcycle key after 3.5 hours of rigorous surgery. The key had pierced 3.8 centimeters into the man's brain.
The case was that of a 19-year-old from the Ahmednagar district of Maharashtra, in India who got involved into a brawl in his village and was injured after being transfixed more than an inch with a motorcycle key in his head.
Brain scan report showed that the key had pierced 3.8 centimeters into the man's brain, said Dr. Ashish Bhandari, the administrator of the hospital where the patient was treated.
He said the boy was brought into the hospital on April 18 at around 11 am, after being involved in a fight. The teenager was assaulted by someone and a bike key got lodged deep into his skull.
"He was brought to my outpatient department at around 3.30pm, and after seeing the scan report we started the surgery at around 6.30pm that day. "Luckily, he didn't suffer internal bleeding, and there was no damage to his brain," Bhandari told the Sun. "Had there been severe internal bleeding, it could have cost him his life."
The man went through a 3.5-hour surgery for its removal and he was reportedly discharged from the hospital three days after his surgery and is currently recovering.