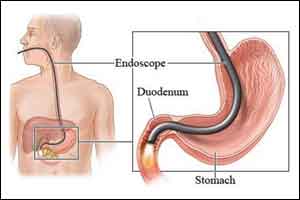 Indian Doctors at Dr. Rajendra Prasad Government Medical College, Tanda have performed its first endoscopy of a 100-year-old patient.
Ali Akbar, a patient from Jammu and Kashmir reported to the hospital with complaints of difficulty in swallowing for the last 22days.Dr.RajeshSharma, treating Doctor after taking a brief history and conducting a physical examination decided to go for  GI Endoscopy to reach the diagnosis. It was necessary for diagnosing the cause of difficulty in swallowing but the only thing which was deterring was the age of patient which was 100 years.
According to doctors, it is a very common procedure being done at the hospital but it was for the first time they carried out procedure n such an old patient. A lot of care had to be exercised keeping in view the age of the patients. The result of the endoscopy revealed that it was a benign narrowing of the esophagus. The patient is being worked on for ascertaining further management.
Gastrointestinal endoscopic investigation and treatment have contributed greatly to the improved quality of life for patients globally in recent years, through innovations in endoscopic techniques, marked improvement in endoscopes and accessories, and enhancements to the medical insurance system. Therefore more and more elderly patients now undergo gastrointestinal endoscopy following recent advances in endoscopic techniques.
The usual indications of Upper G endoscopy include UGI bleeding (hematemesis/melena), Epigastric pain, Acid Peptic Disease, (APD), Dyspepsia, Reflux esophagitis, Dysphagia  Abdominal pain  Persistent nausea/ vomiting, Anemia, Esophageal varices , Malignancy and Melena.
There are a number of issues to contemplate when considering performing an endoscopic procedure in an elderly patient, including the anticipated benefits of endoscopy as well as the increased risks associated with procedural sedation and some endoscopic procedures.
A certain level of complications appears to be unavoidable; both adverse drug reactions to antispasmodic premedication, including allergic reactions and anaphylactic shock, and intraoperative hemorrhage or perforation and a rapid increase in deaths from both causes over the age of 60 years is being encountered lately.