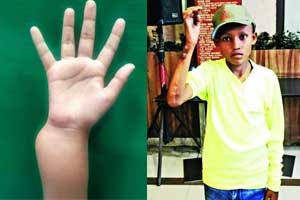 Doctors at Narayana Superspeciality Hospital, Howrah performed the first Extracorporeal Radiotherapy (ECRT) case in Eastern India, where cancer affected bone was taken out of the body for high-intensity radiotherapy and then re-implanted post-treatment. In ECRT radiation is given at 50 Gy for about 20-25 minutes while normal radiation given to any cancer patient is 30 Gy over 4-6 weeks.
The patent Iman Hossain 13 yrs from Agartala was brought to NSH with severe pain and swelling in the right hand in August 2017. Clinical examinations including Biopsy, PET Scan, X-Ray, and MRI revealed that he was suffering from Ewing Sarcoma (Bone Cancer) in the right forearm. A multidisciplinary tumor board was formed to offer a curative treatment instead of other treatment options like amputation or external beam radiation. External beam radiation would have had side effects like limb stiffness and jeopardized hand functions. The treatment included pre-surgery chemotherapy (Neo-Adjuvant) and post-surgery chemotherapy (Adjuvant) as well.
The unique point is that cancer had spread in the entire ulna bone (forearm). The 8 hours long surgery included taking out the bone, giving radiation and re-implantation of the tumor-free irradiated bone. The ligaments at the wrist, elbow joints and the forearm skin were also reconstructed by the Musculoskeletal Oncology team and overlying skin defect was covered by Plastic Surgery Team. The patient was discharged 7 days after the surgery and is receiving chemo in Agartala.
Ramena Khatun, mother of Iman expressed, "We were initially heartbroken to see our little child in so much pain and the disease he was suffering from. But with God's grace today he is leading a normal life. For this, I would like to thank the doctors at Narayana Superspeciality Hospital, Howrah." Akshay Oleti, Facility Director, Narayana Superspeciality Hospital Howrah, said, "We, at Narayana Superspeciality Hospital Howrah, are focused on doing ground-breaking work in cancer treatment. Thanks to the Multi-disciplinary team of doctors, we are continuously taking up challenging protocols, providing high-quality treatment and excellent success rates." Case 2: 49 years old Jiban Krishna Bhattacharya came to Narayana Superspeciality Hospital Howrah when was unable to walk or sit due to excruciating pain around his pelvis for last seven months. After an initial examination, radiological investigations and biopsy, he was diagnosed as a patient of chondrosarcoma of right pelvis bone. PET CT Scan revealed no evidence of disease anywhere in the body, so, he was treated with curative intent.
Dr Koushik Nandy, Ortho-Oncologist, Narayana Superspeciality Hospital Howrah, said, "The main challenge for this surgery was to give the patient a functional ambulatory life after the surgery. Operations in the pelvis involve extensive morbidity and post-surgery functional deficit. In the multidisciplinary sarcoma board meeting, it was decided to plan for extracorporeal radiotherapy of the pelvis bone and re-implantation of the pelvis bone." Mr Bhattacharrya recounted, "It's been about six months that I got operated. Today I am free of the immense pain and can also walk with support."