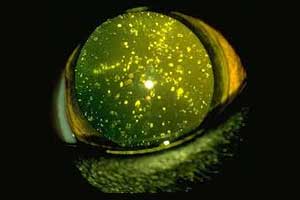 Dr.Koushik Tripathy, M.D. At ICARE Eye Hospital and Postgraduate Institute, Noida, India has reported a case of   Asteroid Hyalosis that has appeared in NEJM.
Asteroid hyalosis (AH) is a degenerative eye condition marked by a buildup of calcium and lipids, or fats, in the vitreous humor. It is commonly confused with synchysis scintillans, which looks very similar. However, synchysis scintillans refers to a buildup of cholesterol instead of calcium. The symptoms are the appearance of small white spots in the field of vision of the patient.
The etiology is uncertain but it is usually associated with certain underlying conditions, including:
diabetes
heart disease
high blood pressure
Courtesy NEJM
According to the history a 54-year-old woman, a known case of type 2 diabetes mellitus came to the ophthalmology clinic for a routine check-up and fundus examination. She was treated successfully for her cataracts, with posterior-chamber intraocular lenses in both eyes. The doctors carried out the Slit-lamp examination of the left eye which revealed multiple sparkling, white, globular, refractile, dotlike opacities in the vitreous cavity (see video).
The opacities tend to move with ocular movement and returned to their original position after movement stopped. The examination of the right eye revealed normal vitreous. Her visual acuity was 20/20 in both eyes, and the fundus examination in both eyes was normal. A diagnosis of asteroid hyalosis was made. It is a benign condition that is often unilateral, as in this patient and is associated with older age. The asteroid bodies are composed of calcium, phosphorus, and various phospholipids. Although asteroid hyalosis may hamper the view of the retina during clinical examination, the visual acuity usually remains unaffected. Given the benign nature of this condition and this patient's normal visual acuity, no treatment was recommended.
For further reference log on to :
https://www.nejm.org/doi/full/10.1056/NEJMicm1712355