Indian cardiologist gets published in JAMA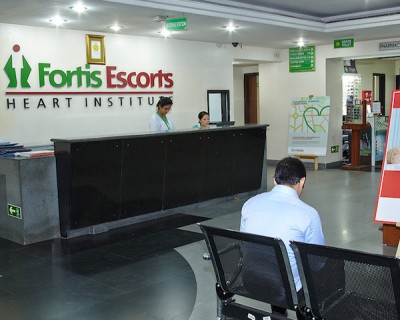 New Delhi:
A study conducted by Prof. Upendra Kaul, Dean & Executive Director, Cardiology, Fortis Escorts Heart Institute and his team has been included in the prestigious Journal of American Medical Association (JAMA). The research clearly demonstrates the superiority of Everolimus eluting stents over Paclitaxel eluting stents in diabetic patients.
Titled "Percutaneous Coronary Intervention in Patients With Insulin-Treated and Non–Insulin-Treated Diabetes Mellitus," the study is a secondary analysis of the TUXEDO Clinical Trial, and puts to rest a decade-old medical controversy on the comparative superiority of the stents in diabetics.
Study background and details:
In patients who do not have diabetes, the superiority of sirolimus-eluting stents over paclitaxel-eluting stents has been consistently reported for clinical outcomes, but the data for patients who have diabetes has been controversial, with several studies reporting similar clinical outcomes with paclitaxel-eluting stents and sirolimus-eluting stents. Insulin requiring Diabetics do worse after Percutaneous Coronary Intervention (PCI) as compared to Non-Insulin requiring ones. This is mainly due to risk factors often associated with Insulin treated patients: long duration of diabetes, erratic and uncontrolled diabetes, associated comorbidities like hypertension, high cholesterol, obesity and insulin resistance etc. This controversy has lingered in the era of newer-generation drug-eluting stents.
The results of this study provides significant insights into the decade-long debate about the efficacy of limus-eluting stents in patients with diabetes:


The present single blind randomized clinical trial was carried out across 46 Indian hospitals. A total of 1788 patients received the study stent; 889 patients received a paclitaxel-eluting stent, and 899 patients received an everolimus-eluting stent.


Through monitoring and follow-up over one-year, it was found that patients assigned to receive a paclitaxel-eluting stent had significantly higher rates of schemia-driven target-vessel revascularization and target-lesion revascularization than did patients assigned to receive an everolimus-eluting stent. They also had significantly higher rates of spontaneous myocardial infarction, stent thrombosis, the composite of cardiac death or target-vessel myocardial infarction and major adverse cardiac events.


This study did not show non-inferiority of paclitaxel-eluting stents to ever olimuseluting stents in patients with coronary artery disease and diabetes mellitus. Overall it showed that Everolimus-eluting stents were superior to paclitaxel-eluting stents with regard to several end points, including target-vessel failure, myocardial infarction, and stent thrombosis.


Among the 350 trials conducted globally and submitted to the TCT only 12 exceptional trials got selected. This clinical trial has also placed India and Fortis, firmly on the global map for clinical research and Dr. Kaul has been publicly honored by one of the largest and most prestigious global congregations of eminent cardiologists.
Dr. Upendra Kaul said, "India offers a very lucrative environment for clinical trials. It has a large English educated young population including scientists and researchers. India also offers significant cost advantage as compared to developed and other emerging economies, 40- 60% lower than in developed countries and around 10- 20% lower than emerging economies.Indian companies have already proven its capabilities in discovering and developing and are highly capable in research and development particularly in drug discovery. The recently revised guidelines for clinical research in India provide an enlightened framework and make the process more transparent. We as stakeholders need to make sure that there is absolute clarity about the new guidelines, with efficiency in execution so that crucial clinical trials can go on smoothly."
As per the WHO Global Report on Diabetes 2014, across the globe, the prevalence of diabetes is growing in all regions of the world. In 2014, 422 million adults, i.e. 8.5% of the population had diabetes, compared with 108 million or 4.7% in 1980. The disease also has a major health and socioeconomic impact, especially on people living in developing countries with low awareness, less access and facilities to enable healthy lifestyles. The findings of the Fortis Escorts Study will enable doctors to provide an informed view to their patients and help improve clinical outcomes among diabetics.
Source : Press Release