India has 23 percent of active TB patients in the world- Study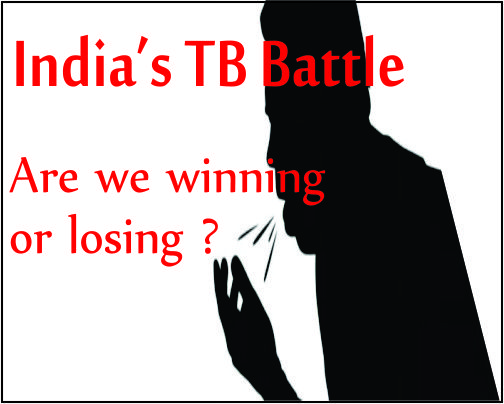 India has 23% of the global burden of active tuberculosis (TB) patients and 27% of the world's "missing" patients, which includes those who may not have received effective TB care and could potentially spread TB to others, a new study suggests.
With a study authors
Ramnath Subbaraman et al suggest that the
"cascade of care" is a useful model for visualizing deficiencies in case detection and retention in care, in order to prioritize interventions.
The care cascade constructed in the paper focuses on the Revised National TB Control Programme (RNTCP), which treats about half of India's TB patients. The authors define the TB cascade as including the following patient populations: total prevalent active TB patients in India, TB patients who reach and undergo evaluation at RNTCP diagnostic facilities, patients successfully diagnosed with TB, patients who start treatment, patients retained to treatment completion, and patients who achieve 1-y recurrence-free survival.
The authors estimate each step of the cascade for 2013 using data from two World Health Organization (WHO) reports (2014–2015), one WHO dataset (2015), and three RNTCP reports (2014–2016). In addition, they also conducted three targeted systematic reviews of the scientific literature to identify 39 unique articles published from 2000–2015 that provide additional data on five indicators that help estimate different steps of the TB cascade. Separate care cascades were constructed for the overall population of patients with active TB and for patients with specific forms of TB—including new smear-positive, new smear-negative, retreatment smear-positive, and multidrug-resistant (MDR) TB.
The WHO estimated that there were 2,700,000 prevalent TB patients in India in 2013. Of these patients, 1,938,027 (72%) TB patients were evaluated at RNTCP facilities; 1,629,906 (60%) were successfully diagnosed; 1,417,838 (53%) got registered for treatment; 1,221,764 (45%) completed treatment; and 1,049,237, or 39%, of 2,700,000 TB patients achieved the optimal outcome of 1-y recurrence-free survival.
The separate cascades for different forms of TB highlight different patterns of patient attrition.
Pretreatment loss to follow-up of diagnosed patients and post-treatment TB recurrence were major points of attrition in the new smear-positive TB cascade
. In the new smear-negative and MDR TB cascades,
a substantial proportion of patients who were evaluated at RNTCP diagnostic facilities were not successfully diagnosed.
Retreatment smear-positive and MDR TB patients had poorer treatment outcomes than the general TB population.
The authors concluded that


Increasing case detection is critical to improving outcomes in India's TB cascade of care, especially for smear-negative and MDR TB patients.


For new smear-positive patients, pretreatment loss to follow-up and post-treatment TB recurrence are considerable points of attrition that may contribute to ongoing TB transmission.


According to the RNTCP Annual Status Report 2016, about 2.2 million people develop TB in India each year and an estimated 220,000 die from the disease. Some estimates calculate the deaths as being twice as high. The economic burden of TB is extremely high. Between 2006 and 2014,
TB
cost the Indian economy a massive USD 340 billion.
The study was published in PLOS Medicine.
You can read the full article by clicking on the following link :-
http://journals.plos.org/plosmedicine/article?id=10.1371/journal.pmed.1002149