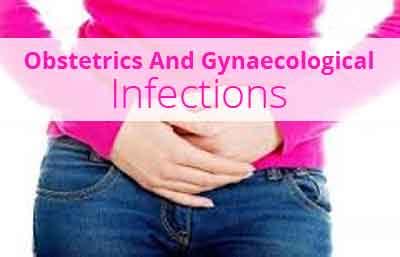 In 2016 National Centre For Disease Control, Directorate General of Health Services, Ministry of Health & Family Welfare, Government of India came out with National Treatment Guidelines for Antimicrobial Use in Infectious Diseases.
Following are major recommendations for Obstetrics And Gynaecological Infections:
Fluoroquinolones are contraindicated in 1st trimester.
 Cotrimoxazole is contraindicated in 1st trimester.
Doxycycline is not recommended in nursing mothers. If need to administer doxycycline discontinuation of nursing may be contemplated.
Infections
Likely organism
Primary treatment (presumptive antibiotics)
Alternate treatment
Remarks
Asymptomatic Bacteriuria > 1,00,000 cfu/ ml of bacteria of same species in 2 urine cultures obtained 2-7 days apart.

Treat as per sensitivity result for 7 days.

Nitrofurantoin 100 mg Oral, BD for 7 days

or Amoxicillin 500 mg Oral BD x 7-10 days .

Oral cephalosporins, TMP-SMX or TMP alone
Screen in 1st trimester. Can cause pylonephritis in upto 25% of all pregnant women. 30 % Chance of recurrence after empirical therapy 1. Few direct effects, uterine hypo perfusion due to maternal anemia dehydration, may cause fetal cerebral hypo perfusion.

2. LBW, prematurity,premature labour, hypertension, preeclampsia, maternal anemia, and amnionitis. Need to document pyuria (Pus cells > 10/HPF)

Group B streptococcal Disease, Prophylaxis and Treatment
Group B Streptococci
IV Penicillin G 5 million units. (Loading dose) then 2.5 -3 million units IV QID until delivery.

or

Ampicillin 2 gm IV ( Loading dose) then 1 gm QID until delivery

Cefazolin 2 gm IV (Loading Dose) and then 1 gm TID

Clindamycin 900 mg IV TID or vancomycin IV or teicoplanin for penicillin allergy

Prevalance very low so the prophylaxis may be required only on culture documented report Associated with high risk of pre-term labour,still birth,neonatal sepsis
Chorioamnionitis
Group B streptococcus, Gram negative bacilli, chlamydiae, ureaplasma and anaerobes, usually Polymicrobial
Clindamycin/ vancomycin/ teicoplanin and cefoperazone-sulbactum

If patient is not in sepsis then IV Ampicillin

Preterm Birth, 9-11% death rate in preterm infant's unfavourable neurologic outcome, lesser risk to term infants.
Septic abortion
Bacteroides, Prevotella bivius, Group B, Group A Streptococcus,

Enterobactereaceae, C. trachomatis, Clostridium perfringens.

Ampicillin 500 mg

QID +

Metronidazole

500mg IV TDS

if patient has not

taken any prior antibiotic (start antibiotic after

sending cultures) If patient has been partially treated with antibiotics, send blood cultures and start PiperacillinTazobactam or Cefoperazonesulbactam till the sensitivity report is available.

Ceftriaxone 2g IV

OD

Endomyometritis

and Septic Pelvic

Vein Phlebitis

Bacteroides, Prevotella bivius, Group B, Group A Streptococcus, Enterobactereaceae, C. trachomatis, Clostridium perfringens
Same as above.
Obstetric Sepsis during pregnancy
Group A beta-haemolytic Streptococcus, E.coli, anaerobes.
If patient is in shock and blood culture reports are pending, then start

Piperacillin-Tazobactam

or

Cefoperazone-sulbactam till the sensitivity report is available and modify as per the report. If patient has only fever, with no features of severe sepsis start amoxicillin clavulanate oral 625TDS/IV 1.2 gm TDS Or

Ceftriaxone 2gm IV OD+ Metronidazole 500mg IV TDS +/-gentamicin 7mg/kg/day OD

if admission needed. MRSA cover may be required if suspected or colonized (Vancomycin/ Teicoplanin)

Obstetric Sepsis following pregnancy
S. pyogenes,

E. coli,

S. aureus

S. pneumoniae, Meticillin-resistant

S. aureus (MRSA),

C. septicum & Morganella morganii.

Same as above
Sources of sepsis outside Genital tract Mastitis UTI Pneumonia Skin and soft tissue (IV site, surgical site, drain site etc.)
| | | | | |
| --- | --- | --- | --- | --- |
| Syphillis | | | | Refer to STD program guidelines |
Tuberculosis in pregnancy
Similar to NON PREGNANT population with some exceptions (see comment and chapter 8)
Please refer RNTCP guideline

WHO has advocated that, all the first line drugs are safe in pregnancy and can be used except streptomycin. SM causes significant ototoxicity to the fetus (Pyrazinamide not recommended by US FDA)

1. Mother and baby should stay together and the baby should continue to breastfeed.

2. Pyridoxine supplementation is recommended for all pregnant or breastfeeding women taking isoniazid as well as to neonate who are being breast fed by mothers taking INH.

Very small chance of transmission of infection to fetus.

Late diagnosis can predispose to LBW, prematurity.
VIRAL INFECTIONS (NO ANTIBIOTICS TO BE GIVEN)
Influenza In pregnancy (seasonal And H1N1)

The best preventive strategy is administration of single dose of killed vaccine.

Oseltamivir 75 mg Oral BD for 5 days
Nebulization with Zanamvir respules (2) 5 mg each, BD for 5 days
1. Tendency for severe including premature labor &delivery.

2. Treatment should begin within 48 hrs of onset of symptoms.

3. Higher doses commonly used in non pregnant population (150 mg) are not recommended in pregnancy due to safety concerns.

4. Chemoprophylaxis can be used in significant exposures.

5. Live (nasal Vaccine) is contraindicated in pregnancy.

Direct fetal infection rare Preterm delivery and pregnancy loss.
Varicella
>20 wks of gestation, presenting within 24 hours of the onset of the rash,

Aciclovir 800mg Oral 5 times a day IV acyclovir recommended for the treatment of severe complications,

> 24 hrs from the onset of rash, antivirals are not found to be useful.

VZIG should be offered to susceptible women < 10 days of the exposure. VZIG has no role in treatment once the rash appears.

The dose of VZIG is 125 units / 10kg not exceeding 625 units, IM.

Chickenpox during pregnancy does not justify termination without prior prenatal diagnosis as only.

A minority of fetuses infected develop fetal

varicella syndrome.
Acute Toxoplasmosis

in pregnancy

<18 weeks gestation at diagnosis-

Spiramycin 1 gm Oral qid until 16-18 weeks/Pyrimathamine + sulphadizine. Alternate every two weeks–

If PCR Positive –

>18 weeks gestation and documented fetal infection by positive amniotic fluid PCR.

Pyremethamine 50 mg Oral BD x 2 days then 50 mg OD +

Sulphadiazine 75 mg/kg Oral x 1 dose then 50mg/kg bd

+

Folinic Acid (10-20 mg Oral daily) for minimum of 4 weeks or for duration of pregnancy.
| | |
| --- | --- |
| Malaria In pregnancy | As per national program |
Candidiasis
Candida species
Fluconazole oral 150 mg single dose For milder cases-

Intravaginal agents as creams or suppositories clotrimazole, miconazole, nystatin. Intravaginal azoles, single dose to 7-14 days.

Non-pregnant- If recurrent candidiasis, (4 or more episodes/year) 6 months suppressive treatment with fluconazole 150 mg oral once a week or clotrimazole vaginal suppositories 500 mg once a week.
Bacterial vaginosis
Polymicrobial
Metronidazole500mg Oral BD x 7 days

Or metronidazole vaginal gel 1 HS x 5 days

Or Tinidazole 2 g orally ODx 3 days

Or 2% Clindamycin Vaginal cream 5 gm HS x 5 days

Treat the partner.
Trichimoniasis
Trichomonas vaginalis
Metronidazole 2 gm single dose or 500 mg Oral BD X 7 days or

Tinidazole 2 gm Oral single doseFor treatment failure – retreat with Metronidazole 500 mg Oral BD X 7 Days, if 2nd failure Metronidazole 2 gm Oral OD X 3- 5 days

Treat sexual partner with metronidazole 2 gm single dose
Cervicitis /Urethritis Mucopurulent gonoccocal
Polymicrobial
Ceftriaxone 250 mg IM Single dose + Azithromycin 1 gm single dose OR Doxycycline 100mg BD x 7 day
Pelvic Inflammatory Disease (Salpingitis & tubo-ovarian abscess)
S. aureus, Enterobacteriacae, gonococci, gardenella
Outpatient treatment

Ceftriaxone 250 mg IM/IV single dose plus +/- Metronidazole 500 mg BD x 14 days Plus Doxycycline 100 mg BD x 14 Days

Inpatient Treatment Clindamycin +ceftriaxone till patient admitted then change to OPD treatment

Drainage of tuboovarian abscess wherever indicated Evaluate and treat sex partner
Mastitis without abscess
S. aureus
Amoxycillin clavulunate/Cephalexin 500 mg QID/ OR Ceftriaxone 2 gm OD OR MRSA- based on sensitivities Add Clindamycin 300 QID or

Vancomycin I gm IV 12 hourly /teicoplanin 12mg/kg IV 12 hourly x 3 doses followed by 6 once daily IV

Mastitis with abscess
Drainage with antibiotic cover for MRSA

Clindamycin 300 QID or

Vancomycin 15mg/kg IV 12 hourly (maximum 1gm 12 hourly)/teicoplanin 12mg/kg IV 12 hourly x 3 doses followed by 6 mg once daily IV
You can read the full Guideline by clicking on the following link :
http://www.ncdc.gov.in/writereaddata/linkimages/AMR_guideline7001495889.pdf