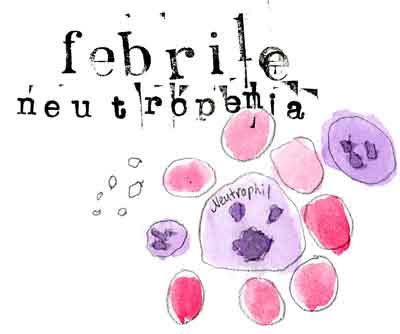 In 2016 National Centre For Disease Control, Directorate General of Health Services, Ministry of Health & Family Welfare, Government of India came out with National Treatment Guidelines for Antimicrobial Use in Infectious Diseases.
Following are major recommendation
Febrile Neutropenia :
Febrile Neutropenia- definition
 Neutropenia-ANC<500/mm3 and expected to fall below 500/mm3 in 48hrs
Fever -single oral temperature of 38.3oC (1010 F) on one occasion or 38oC (100.40 F) on at least 2 occasions (1 hour apart)
Neutropenic patients may not have usual signs of infection. Redness, tenderness and fever may be the only signs.
Protocol:
Critical examination of areas usually harboring infections, including but not limited to, oral cavity, axillary region, scalp, groin, perineal region.
Send blood Cultures 2 sets (each bottle 10ml x 4 bottles)
Other relevant investigations: urea, creatinine, ALT, urine culture, Chest Xray, separate culture from central line, etc
Patient-Haemodynamically stable
Blood culture 2 sets
Start IV Ceftazidime
 No need to add glycopeptide in the initial regimen (except in specific situations, given below)
Patient-Haemodynamically unstable
Start BL-BLI agent (Cefoperazone-Sulbactam/piperacillin-tazobactam)
           OR
Carbapenem (meropenem/imipenem/doripenem)
No need to add glycopeptide in the initial regimen (except in specific situations, given below)
Reassess after 48 hours:
If blood cultures are negative, haemodynamically stable but still febrile
 Reculture blood
Add amikacin for 3 days
Add colistin (instead of amikacin) if indicated (see below)
If blood cultures are negative, haemodynamically unstable but still febrile
Inj Colistin (+/-Carbapenem) + glycopeptide + Echinocandin/L-Ampho
B Blood culture growing Gram negative bacilli
Patient afebrile – continue the empirical antibiotic till antibiotic sensitivity is available.
Rationalise as per susceptibility profiles
When to add glycopeptides?
1. Haemodynamic instability, or other evidence of severe sepsis, septic shock or pneumonia
2. Colonisation with MRSA or penicillin-resistant S. pneumonia 28
3. Suspicion of serious catheter-related infectione.g. chills or rigours with infusion through catheter and cellulitis around the catheter exit site
4. Skin or soft-tissue infection at any site
5. Positive blood culture for gram-positive bacteria, before final identification and susceptibility testing is available
6. Severe mucositis
When to add empirical colistin in febrile neutropenic patients?
1. Heamodynamic instability.
2. Colonisation with carbapenem resistant gram-negative bacteria.
3. Previous infection with carbapenem resistant gram-negative bacteria.
4. GNB in blood, sensivity pending, persistent fever with haemodynamic instability.
Empirical Antifungal Therapy
No response to broad spectrum antibiotics (3-5 days)-add L-Ampho B / echinocandin
 When a patient is located at a remote area and may not have access to emergency healthcare services, febrile neutropenia can be lifethreatening. Under such circumstances, availability of broad-spectrum oral antibiotics with the patient can help them gain time to reach emergency healthcare service.
Useful tips
 Febrile after 72 hrs-CT chest and consider empirical antifungal.
If fever persists on empirical antibiotics, send two sets blood cultures/day for 2 days
Send further cultures if clinical deteriaration
Unexplained persistent fever in otherwise stable patient doesn't require change in empirical antibiotic regimen. Continue the regimen till ANC is >500 cells/mm3
If glycopeptide started as a part of empirical regimen, STOP after 48 hrs, if no evidenc of Gram positive infection
Antibiotic treatment should be given for at least seven days with an apparently effective antibiotic, with at least four days without fever.
Once Neutrophil count has recovered, with no culture positivity and heamodynamically stable; antibiotics can be stopped and patient observed, even if remains febrile. Evaluate for fungal infection, if at risk.
Antibiotic Prophylaxis
Though quinolone prophylaxis is recommended by International guidleines, it is not useful in Indian scenario due to high resistance.
Antiviral prophylaxis
For HSV IgG positive patients undergoing allo-HSCT or leukemia induction needs acyclovir prophylaxis
All patients being treated for cancer need to receive annual influenza vaccination with an inactivated vaccine.
Neutropenic patients presenting with influenza like illness should receive empirical treatment with neuraminidase inhibitor.
Antifungal prophylaxis
a) Induction chemotherapy of Acute Leukemia: Posoconazole
b) Post allo BMT
Pre engraftment: Voriconazole/echinocandin
Post engraftment: Posoconazole
You can read the full Guideline by clicking on the following link :
http://www.ncdc.gov.in/writereaddata/linkimages/AMR_guideline7001495889.pdf