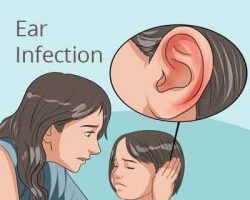 An ear infection occurs when a bacterial or viral infection affects the middle ear—the sections of the ear just behind the eardrum. Ear infections can be painful because of inflammation and fluid build up in the middle ear.Ear infections can be chronic or acute. Acute ear infections are painful but short in duration. Chronic ear infections do not clear up, or they recur many times. Chronic ear infections can cause permanent damage to the middle and inner ear.
 Antibiotics play an important role in ear infecctions. In 2016 National Centre For Disease Control, Directorate General of Health Services, Ministry of Health & Family Welfare, Government of India came out with National Treatment Guidelines for Antimicrobial Use in Infectious Diseases.
Following are major recommendation
Ear Infections :
Ear infection
Likely Etiology/
Suggested Regimen
Alternate
Remarks
Malignant otitis externa
P. aeruginosa (in >90% cases)
Piperacilin+Tazobactam 4.5gm IV 6h Or Imipenem/Meropenem Ciprofloxacin
Ceftazidime
Debridement usually required. Rule out osteomyelitis; Do CT or MRI, If bone involved , treat for 4-6 wks.
Acute otitis media
S. pneumoniae H. influenzae Morexella catarrahalis
Amoxicillin+clavulanate 90/6.4mg /kg/day bid or cefpodoxim /cefuroxime axetil 250mg BD
Ceftriaxone 50mg/kg I/M for 3 days
Treat children <2 years If >2 years, afebrile and no ear pain- consider analgesics and defer antibiotics Duration of treatment If age <2 years: 10 days If age >2 years : 5-7 days
Mastoiditis
Acute
S.pneumoniae S.aureus H.infiuenzae P.aeruginosa
Cefotaxime 1-2 gm iv 4-8 hourly

Ceftriaxone 2 gm iv OD

Modify as per culture Unusual causes-

Nocardia, TB, Actinomyces.

Chronic
Polymicrobial
Piperacillin- tazobactam 4.5g IV 8h

Meropenem 1 gm iv 8h

Acute Pharyngitis/tonsillitis
Exudative/Diffuse Erythema
Mostly viral Group A, C, G Streptococcus, Infectious mononucleosis,
Penicillin V oral x10 days or Benzathine Penicillin 1.2 MU IM x 1 dose or Cefdinir or cefpodoxime x 5 days
Penicillin allergic, Clindamycin 300-450 mg orally 6-8 hourly x 5 days. Azithromycin clarithromycin are alternatives.
Membranous pharyngitis
C.diptheriae,
Erythromycin 500 mg IV QID or Penicillin G 50,000 units/kg IV 12 hourly. Diptheria antitoxin: Horse

serum. <48 hrs:20,000-40,000 units, Nasopharyngeal membranes:40,000-60,000 units

>3 days & bull neck : 80,000-1,20,000 units

Epiglotitis(Supraglotis)
Children: H.influenzae , S.pyogenes, S.pneumoniae, S.aureus.

Adult: Group A Streptococcus , H.influenzae

Cefotaxime 50 mg/kg IV 8 hourly or ceftriaxone 50 mg/kg IV 24 hourly
Levofloxacin 10 mg/kg IV 24 hourly + clindamycin 7.5 mg/kg IV 6 hourly.
| | | | | |
| --- | --- | --- | --- | --- |
| Laryngitis(hoarseness) | Viral (90%) | No antibiotic indicated | | |
You can read the full Guideline by clicking on the following link :
http://www.ncdc.gov.in/writereaddata/linkimages/AMR_guideline7001495889.pdf