Antibiotic Guideline for Central Nervous System Infections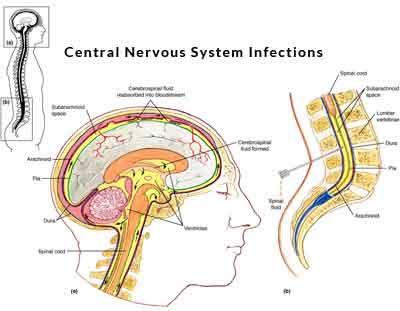 In 2016 National Centre For Disease Control, Directorate General of Health Services, Ministry of Health & Family Welfare, Government of India came out with National Treatment Guidelines for Antimicrobial Use in Infectious Diseases.
Following are major recommendation
Central Nervous System Infections:




Condition


Likely Causative Organisms


Empiric antibiotics (presumptive antibiotics)


Alternative antibiotics


Comments




Acute bacterial Meningitis


S. pneumoniae, H.influenzae, Neisseria meningititidis


Ceftriaxone 2 g IV 12hourly/ Cefotaxime 2 g IV 4-6hourly

10-14 days treatment


Chloramphenicol if patient is allergic to penicillin


Antibiotics should be started as soon as the possibility of bacterial meningitis becomes evident, ideally within 30 minutes. Do not wait for CT scan or LP results. No need to add vancomycin as primary agent, as ceftriaxone resistant Pneumococcus is not common in India. Listeria is also rare in India and so ampicillin is also not indicated Adjust therapy once pathogen and susceptibilities are known.




Meningitis-Postneurosurgeryor Penetratinghead trauma


Staphylococcus epidermidis, Staphylococcus aureus, Propionibacterium acnes, Pseudomonas aeruginosa, Acinetobacter baumanii


Meropenem 2gm IV 8 hourly AND Vancomycin 15mg/kg IV 8 hourly

For 14 days.




May need intra ventricular therapy in severe cases




Meningitis with basilar skull fractures


S.pneumoniae,

H. influenzae


Ceftriaxone 2gm IV 12 hourly

For 14 days




Dexamethasone 0.15mg/kg IV 6 hourlyfor 2-4days (1st dose with or before first antibiotic dose)




Brain abscess, Subdural empyema


Streptococci, Bacteroides, Enterobacteria-ceae, S.aureus


Ceftriaxone 2 gm IV 12hourly

or

Cefotaxime 2 gm IV 4-6hourly

AND

Metronidazole 1 gm IV 12hourly

Duration of treatment to be decided by clinical & radiological response, minimum two months required.


Meropenem 2gm IV 8hourly


Exclude TB, Nocardia, Aspergillus, Mucor

If abscess <2.5cm & patient neurologically stable, await response to antibiotics.

Otherwise, consider aspiration/surgical drainageand modify antibiotics as per sensitivity of aspirated/drained secretions.




You can read the full Guideline by clicking on the following link :
http://www.ncdc.gov.in/writereaddata/linkimages/AMR_guideline7001495889.pdf