Mumbai doctor to operate on heaviest woman of the world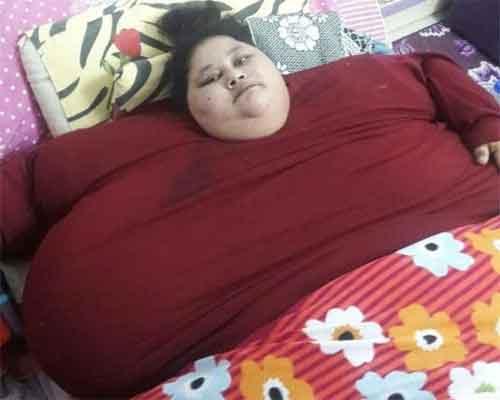 Mumbai: Eman Ahmed Abd El Aty, 36,believed to be the world's heaviest woman at 500kg (1,102lb) will soon be flown to Mumbai from Egypt in order to undergo bariatric surgery to be performed by Dr Muffazal Lakdawala.
The woman who has not been able to leave home for 25 years now, weighed 5kg (11lb) at birth and was diagnosed with elephantiasis.
Dr Lakdawala however has diagnosed the patient with obesity-related lymphoedema which he claims, is responsible for the gigantic swelling of her legs.
"They said when she was 11, she had gained immense weight because of which she could not stand up and would crawl.And then she suffered a stroke which left her bedridden and she has not been able to leave home since then." Dr Lakdawala told the
BBC.
Initially the visa request was declined by the Indian embassy in Cairo as the patient was unable to travel there in person. The surgeon then tweeted to India's foreign minister regarding the same, sorting the matter.
"We are expecting to fly her to Mumbai next week as soon as the formalities are over,she would need to remain in Mumbai for two to three months for the surgery and treatment after which she would be able to return home, but it would take two to three years to bring her body weight under 100kg," the surgeon said.
"I'm hopeful that I will be able to help her, I won't say I'm confident because I think that would be an exaggeration," he added.
Dr Lakdawala has performed weight reduction surgeries on Indian minister Nitin Gadkari and Venkaiah Naidu in the past.
Bariatric surgery
(weight loss surgery) includes a variety of procedures performed on people who have obesity. Weight loss is achieved by reducing the size of the stomach with a gastric band or through removal of a portion of the stomach (sleeve gastrectomy or biliopancreatic diversion with duodenal switch) or by resecting and re-routing the small intestine to a small stomach pouch (gastric bypass surgery).
Long-term studies show the procedures cause significant long-term loss of weight, recovery from diabetes and improvement in cardiovascular risk factors.
Source : With inputs