................................ Advertisement ................................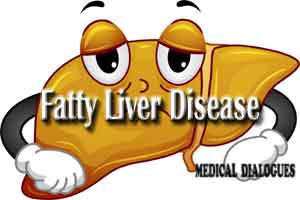 Increased blood sugar in Type 2 diabetes mellitus (T2DM) is associated with risk for nonalcoholic fatty liver disease (NAFLD) and considered a major risk factor for clinically significant liver disease. The study has appeared in the Journal of Clinical Gastroenterology and Hepatology.
Type 2 diabetes is a risk factor for the development of cirrhosis and hepatocellular carcinoma. However, the risk factor that identifies persons with the highest risk for these outcomes is missing from unselected, population-based cohorts.
Diabetes is a disease that occurs when blood sugar, is too high. Blood sugar is the main source of energy and comes from the food consumed. Insulin, a hormone made by the pancreas, helps glucose from food get into your cells to be used for energy. Sometimes insulin production or utilisation is faulty as a result of which blood sugar though present in the blood doesn't reach the cells.
................................ Advertisement ................................
Using data from the Swedish National Diabetes Register, researchers compared the incidence of severe liver disease (defined as development of cirrhosis or hepatocellular carcinoma [HCC], liver failure, or liver-related death) in over 400,000 individuals with T2DM and over 2 million individuals without T2DM, matched on age, sex, and county of residence (controls). They also assessed risk factors for severe liver disease in the T2DM group.

................................ Advertisement ................................

During a median follow-up of 7.7 years, 1.3% of patients with T2DM and 0.6% of controls developed the severe liver disease (hazard ratio, 2.3; P<0.001). HCC rates were also significantly higher in individuals with T2DM versus controls (0.26% vs. 0.08%), as were liver-related death rates (0.49% vs. 0.22%). Among those with T2DM, independent predictors of severe liver disease included male sex, older age, higher body-mass index, hypertension, and renal abnormalities (lower glomerular filtration rate and microalbuminuria), whereas statin use was a protective factor.

The risk for severe liver disease was increased in patients with type 2 diabetes compared to controls (hazard ratio, 2.28; 95% CI, 2.21–2.36). Risk factors associated with severe liver disease in persons with type 2 diabetes were higher age, male sex, hypertension, higher body mass index, lower glomerular filtration rate, microalbuminuria, and smoking. Statins were associated with a decreased risk of severe liver disease.

................................ Advertisement ................................
The researchers concluded that Persons with type 2 diabetes have an increased risk of severe liver disease. Knowledge of risk factors can be helpful in identifying persons with type 2 diabetes who have a high risk of severe liver disease. Future studies should evaluate how best to utilize these risk factors to develop more-targeted approaches to screening for NAFLD in clinical practice.
For further reference log on to :
Björkström K et al. Risk factors for severe liver disease in patients with type 2 diabetes. Clin Gastroenterol Hepatol 2019 Apr 19; [e-pub]. (https://doi.org/10.1016/j.cgh.2019.04.038)
Author Details
Dr Kamal Kant Kohli-MBBS, DTCD- a chest specialist with more than 30 years of practice and a flair for writing clinical articles, Dr Kamal Kant Kohli joined Medical Dialogues as an Editor-in-Chief for the Speciality Medical Dialogues section. Besides writing articles, as an editor, he proofreads and verifies all the medical content published on Medical Dialogues including those coming from journals, studies,medical conferences,guidelines etc.
Before Joining Medical Dialogues, he has served at important positions in the medical industry in India including as the Hony. Secretary of the Delhi Medical Association as well as the chairman of Anti-Quackery Committee in Delhi and worked with other Medical Councils in India. Email: editorial@medicaldialogues.in. Contact no. 011-43720751
To know about our editorial team click here
................................ Advertisement ................................