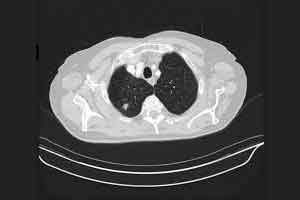 JAMA released guidelines for the management of incidental pulmonary nodules detected on CT images. 
An incidental lung nodule on CT scan can create uncertainty for clinicians as a previous study on CT screening lung cancer trials reported that a lung nodule was detected in up to 51% of study participants.
Read Also: Molecular imaging technique identifies lung nodules for resection in osteosarcoma patient
The new guidelines offer more precise recommendations based on patient risk, the number of nodules (single vs multiple), and the subtyping of subsolid nodules (GGN vs partly solid). Moreover, it also discusses the additional risk factors for malignancy and adds flexibility regarding follow-up imaging.
The major recommendations included are as follows:
Prior imaging studies should always be reviewed whenever available (grade 1A; strong recommendation; high-quality evidence)
Solid nodules <6 mm do not require routine follow-up in low-risk patients (grade 1C; strong recommendation).
For pure ground-glass nodules (GGNs) <6 mm, no routine follow-up is recommended (grade 1B; strong recommendation)
Some solid nodules <6 mm with suspicious morphology, upper lobe location, or both may pose a higher risk and warrant follow-up at 12 months (grade 2A; weak recommendation).
For solitary solid noncalcified nodules measuring 6 to 8 mm in patients at high risk, an initial follow-up examination is recommended at 6 to 12 months and again at 18 to 24 months (grade 1B; strong recommendation; moderate-quality evidence)
For solitary solid noncalcified nodules >8 mm in diameter, consider a 3-month follow-up, workup with combined positron emission tomography (PET) and CT, tissue sampling, or a combination thereof (grade 1A; strong recommendation; high-quality evidence).
Read Also: CT screening significantly reduces deaths from lung cancer
High-risk lung nodules are defined by the American College of Chest Physicians as nodules with an estimated cancer risk of at least 65%. High-risk patient factors include older age and heavy smoking, while high-risk nodule features include larger nodule size, irregular or spiculated margins, and upper lobe location.
For full information log on to https://jamanetwork.com/journals/jama/fullarticle/2714650