In COPD patients, high dose steroid inhalers and frequent exacerbations increase diabetes risk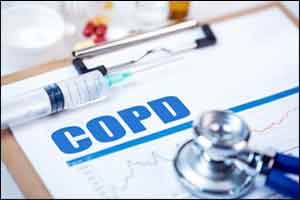 In COPD patients, high dose steroid inhalers and frequent exacerbations increase diabetes risk, finds a new study.
Chronic obstructive pulmonary disease (COPD) patients are at a higher risk of type 2 diabetes mellitus (T2DM), finds a recent study published in the journal Primary Care Respiratory Medicine. This increased risk is associated with frequent COPD exacerbations and exposure to high-dose inhaled corticosteroids (ICS) through inhalers.
The authors suggest that patients with COPD who are using ICS and have frequent COPD exacerbations should be aggressively monitored for type 2 diabetes.
COPD, a chronic inflammatory lung disease, is the fourth leading cause of death in the world and is projected to become the third in 2020. Despite the importance of COPD, it remains under-diagnosed and patients are often diagnosed late. Approx 3 million people die of COPD globally each year.
Alicia Gayle, Boehringer Ingelheim Ltd., Ellesfield Avenue, Bracknell, Berkshire, UK, and colleagues investigated the incidence of T2DM among people with COPD and whether exposure to ICS and exacerbation status was associated with T2DM.
For this descriptive cohort study, the researchers used primary care data from the Clinical Practice Research Datalink (CPRD). The patient cohort included people with COPD diagnosis and previous smoking history registered at a CPRD practice between January 2010 and December 2016.
A total of 220,971 COPD patients were identified during the study period, with a mean age at diagnosis of 66 years (SD 12) and a proportion of 54% males. 20,488 cases with incident T2DM were compared with 200,483 controls without T2DM matched 1:5 by age, sex, and general practitioner practice.
Also Read: Metformin reduces risk of COPD in patients with type 2 diabetes
Key findings of the study include:


The incidence rate of T2DM in COPD patients was 1.26 per 100 patient-years and was higher among men (1.32 vs 1.18 among women).


The adjusted odds ratio for T2DM was 1.47 among frequent exacerbators (≥2 treated exacerbations per year) compared to infrequent exacerbators and the odds ratio for patients receiving high-dose ICS (>800 mcg budesonide equivalent dose) was 1.73 compared to patients receiving no ICS therapy.


Also Read: Use of Beta Blockers associated with reduced risk of death from COPD
"This study suggests that a significant proportion of the COPD population is at high risk of developing T2DM due to many risk factors, including exposure to ICS and frequency of exacerbations. Therefore, when assessing the risk-benefit of high-dose ICS in individual COPD patients, it is important to consider the possibility of an increased incidence of diabetes," concluded the authors.
To read the complete study log on to https://doi.org/10.1038/s41533-019-0138-6