Importance of the vernacular – bringing regional languages into patient care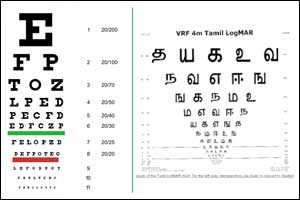 How common is it that you see patients being very uncomfortable when conversing with a doctor, especially when meeting him/her for the first time?
Patients are unable to express their symptoms to their best ability and are often conscious of whether the doctor will interpret his problems correctly. However, when a doctor smiles and greets the same patient in their regional language, the entire scenario changes.
Patients instantly relax, befriend the doctor and are able to express themselves nicely, which in turn helps the doctor to understand the pathology better, make the correct diagnosis and draw up a workable treatment plan that works well. If you notice carefully, the entire chain of events that culminated into cure really started from a conversation in a regional language.
I have experienced this first hand during my ophthalmology residency training at Aravind eye hospital, Pondicherry where we used to go to villages in Tamil Nadu and conduct free eye check-up camps for villagers.
Being from outside the state, I could not converse in Tamil when I began. I soon realized that speaking in Tamil was essential for me to do my job properly and hence I picked up the language quickly. Once I was proficient in spoken Tamil, I saw the villagers warming up to me and queuing outside my examination room to get my consultation. This improved my interactions with patients, helped me probe the history and arrive at the correct diagnosis and earn a lot of goodwill from patients. It is then that I realized the importance of speaking in the vernacular.
In my busy practice in Mumbai, where there are patients from all over the country, my staff makes it a point to inquire the preferred language of communication from patients even before they see me, which helps me break the ice as soon as I greet them and start the chain reaction stated above. This also impacts patients positively. I encourage everyone reading this to adopt the same, especially if you practice in a multi-ethnic community.
In addition to speaking the language, the majority of patients in smaller cities and towns and a lot of them in cities have been educated in vernacular the language. The circulation of newspapers in regional languages far exceeds those of English newspapers. Social media is also encouraging the use of regional languages with Facebook, Google, YouTube, Microsoft and others developing vernacular keyboards for typing. Recently, Google and Microsoft added email support in 15 different languages. Statistics say that nearly 205 million Internet non-users are likely to go digital if the Internet is provided in a language of their choice. These social developments clearly indicate that it is time for us to give regional languages due importance in our clinical practice.
This was the topic of my recent guest editorial in the Indian Journal of Ophthalmology which you can read.T he recent edition of the same journal carries three articles that discuss visual assessment using new visual acuity charts in regional languages that the authors have developed.
Vision testing is an integral part of ophthalmic assessment and patients prefer to read vision charts in regional languages. Patients are often embarrassed when they are unable to read English charts. Yet, there were no such charts to assess vision and match international vision testing standards. I am glad that these charts have now been developed and hope that they will be used extensively in Indian ophthalmic practice when commercially available.
In conclusion, it is time to shake down the Indian language tree and give regional languages their due importance in clinical practice. A positive chain reaction initiated by regional languages improves doctor-patient relationship and helps healthcare delivery more than anything else.
Dr. Sabyasachi Sengupta is a practicing vitreoretinal surgeon in Mumbai. He is the current Associate Editor of the Indian Journal of Ophthalmology and Founder of Senguptas Research Academy , a unique online portal offering E-Learning lectures for clinical research. You can read more about Dr. Sengupta