Understanding ESC Guidelines 2019 on Diabetes In Indian Scenario with Dr Upendra Kaul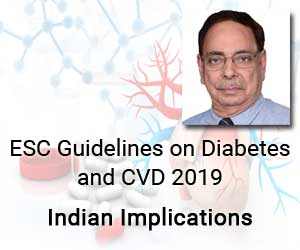 New Delhi: The recently held European Society of Cardiology (ESC) congress 2019, saw a lot of practice-changing recommendations being made in the field of Cardiology practice. One of the major takeaways was the ESC guidelines on diabetes and cardiovascular diseases which appeared in the European Heart Journal.
The guidelines address various aspects of emerging blood-sugar-lowering drugs such as GLP-1 receptor agonists, statins, non-vitamin K antagonist oral anticoagulants, PCSK9 inhibitors, and their proper clinical use. However, the relevance of the guidelines in the Indian scenario needs to be discussed.
In light of this, Dr. Upendra Kaul, one of the leading cardiologists of the country spoke to Medical Dialogues highlighting the applicability of the various recommendations and their implications in the Indian scenario.
One of the major recommendations of the guideline was to bring GGLP-1 receptor agonists and gliflozins as a first-line treatment in type 2 diabetes patients with established cardiovascular disease or at high risk of cardiovascular disease.
Explaining the recommendations in the Indian Scenario as well Dr. Upendra Kaul explained, "This group of drugs should be the first choice along with Metformin in view of improving outcomes. SGLT2 inhibitors should be used in patients with e GFR > 30 ml/min, especially in patients at high risk for heart failure."
"GLP1 receptor agonists in are to be recommended in patients with high risk for vascular events like patients with previous MI, CVA or PAD. Even combinations of SGLT2 and GLP1 analogs can be given in appropriate patients," he added.
The guideline recommended that moderate alcohol intake should not be promoted as a means to protect against cardiovascular disease. This is recommendation holds even more strength in the case of Indian Population Dr Kaul informed
"Certainly, Alcohol intake and its overall negative effect on morbidity and mortality should not be promoted. It is especially true for the South Asian population which in INTERHEART study had not shown any CV benefit," he stated
Statins remain a state of the art therapy in lipid-lowering treatment in patients with diabetes Mellitus. However, there is a lack of evidence to indicate the age at which statin therapy should be initiated. To guide an approach for clinicians, the guideline-recommended that statins should not be used for diabetic women of childbearing potential and should be used with caution in young people.
Agreeing with the recommendation Dr. Kaul said: "This is the population where benefits do not match the downside of Statins."
Patients with diabetes have a high risk of developing vascular disorders. The guideline recommends non-vitamin K antagonist oral anticoagulants, specifically, rivaroxaban in combination with aspirin for patients with diabetes who have poor circulation in the legs.– as they have been reported to benefit peripheral vascular disease.
Commenting on the recommendation, Dr Kaul informed: "Data is very convincing and overwhelming. PAD is the highest risk population since they have extensive multi-territorial vascular disease."
Lastly, the guideline talks about PCSK9 inhibitors which is a new entry in the category of LDL cholesterol-lowering drugs. The guideline recommends PCSK9 inhibitors for patients with diabetes at very high risk of cardiovascular disease who do not achieve low-density lipoprotein (LDL) cholesterol goals despite treatment with statins. In these patients, a more ambitious LDL cholesterol target of below 1.4 mmol/L is
Speaking about its importance in the Indian Scenario Dr. Kaul said: "This is very relevant especially in our country with 70 million patients with diabetes mellitus with a large number of patients with high and very high vascular risk. Targets have to be very low.
The senior cardiologist however did warn that the costs factor of the said drug might prove to be a hindrance
"Cost, however, is a limiting factor to make it practical," he informed